Campus Christian House honors Trine University assistant professor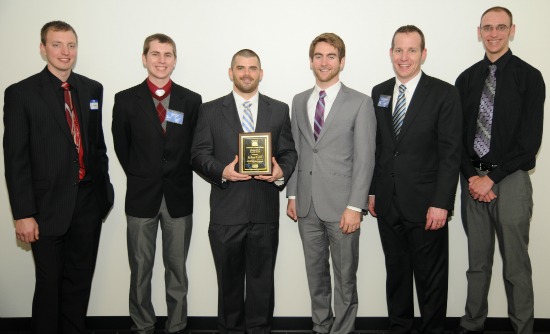 By Lauren Keyser
psychology/communication major '15
Trine University's Campus Christian House honored a Trine University faculty member for his positive attitude and passion for teaching.
Ryan Overton, Ph.D., assistant professor in the Reiners Department of Civil & Environmental Engineering, on Saturday received the Distinguished Faculty Award from the Campus Christian House (CCH) senior class. Overton received his Bachelor of Science and Ph.D. in civil engineering with a specialty in transportation engineering from the University of Tennessee.
"We're grateful for the Trine professors who work to ensure their students are performing well academically and enjoying a well-rounded college experience," said Travis Wilhelm, director of campus ministry and university chaplain. "The award is one way to recognize top individuals on the Trine campus."
The award was presented by senior civil engineering majors Jacob Cramer of Anderson, Jonathan Ritter of Angola and Craig Smallegan of DeMotte. "Dr. Overton is the most down to earth professor and really connects with his students" said Marcus Smith, a senior civil engineering major from Bangor, Mich.
CCH seeks to help Trine University better the student as a whole by creating a ministry that serves their spiritual needs.
Photo: From left are Jacob Cramer, Jonathan Ritter, Ryan Overton, Ph.D., Marcus Smith, Travis Wilhelm and Craig Smallegan.