Youngsters to learn about college at Walk Into My Future
By Catherine E. Porter
communication and marketing '16
ANGOLA, Ind. – More than 100 Trine University faculty, staff and student volunteers will partake in a fun and educational event for local elementary school students next week.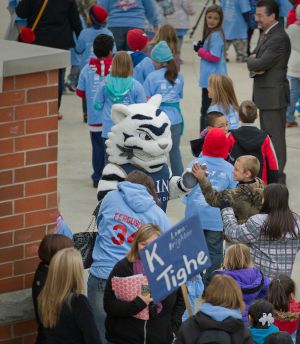 Students in kindergarten through third grade in Lagrange, Hamilton, Fremont and Steuben County schools will participate in Walk into My Future from 9 a.m. to 2 p.m. Thursday, Sept. 24 at Zollner Athletic Stadium, 721 Thunder Drive on Trine's main campus.
"We are excited to host these children and show them why learning is important and what's possible with a college degree," said Earl D. Brooks II, Ph.D., Trine president. "It's important to demonstrate to these bright and impressionable children that a bright future is within their reach."
The event will feature guest speaker State Rep. Denny Zent. Trine's mascot, Storm, will also be present throughout the day.
Trine is partnering with Cole Center Family YMCA and YMCA of Steuben County to offer this hands-on opportunity for children.
"The interaction with college students and chance to explore is very meaningful for children," said Krista Miller, CEO of YMCA of Steuben County. "This unique opportunity provides children with a long-term and attainable goal; they can see what's possible when they get older."
Walk into My Future gives elementary students a brief introduction to college and encourages funding for a CollegeChoice 529 Direct Savings Plan. Students will have the opportunity to interact with members of the Trine community as they move through career stations that each of Trine's schools will host and demonstrate.
This event is part of the Indiana Promise initiative taking place in several northern Indiana counties. The initiative starts the conversation in kindergarten about post-secondary education and careers so from an early age students learn what is possible for the future.
Last year, more than 2,000 kindergarten through third-grade students from Westview, Lakeland and Prairie Heights schools attended the event. This year, approximately 2,500 students and up to 3,000 total guests are expected to attend.