Drama Club presenting nightmare comedy 'Who's on First?'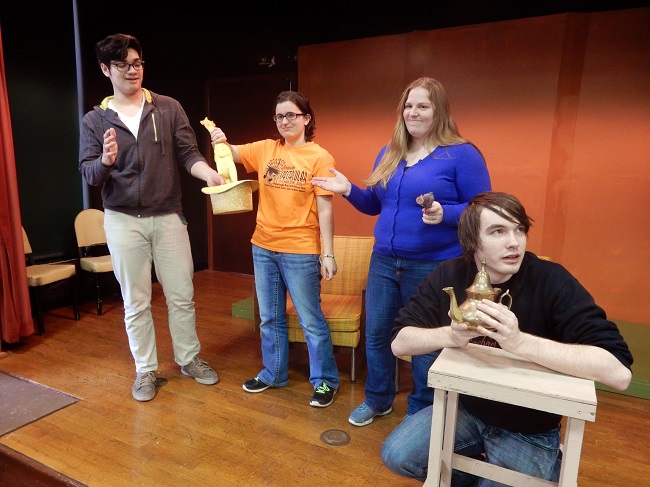 The Trine University Drama Club will present three performances of "Who's on First?" billed as a "nightmare comedy" by Jack Sharkey, from April 6-8 in Wells Theater inside the university's Taylor Hall.
All performances begin at 7:30 p.m. and are free and open to the public.
The play features a husband, wife, lover and friend along with a strange lamp, a gun and a rubber chicken repeating the same hour over and over again.
"The best way I can describe this play is that it is kind of like Groundhog Day, but with less romance and no groundhogs," said Timothy Hopp, Ph.D., faculty advisor to the Drama Club.
Published in 1975, the story begins with Camille — played by Katherine Smallegan, a criminal justice graduate from Warsaw, Indiana — hosting a party. Don (Travis Riddle, a sophomore computer engineering student from Stroh, Indiana) arrives in a jealous funk, suspicious that his wife Alice (Ivy Rubel, a freshman mechanical engineering major from Bradner, Ohio) is seeing another man. Alice arrives with Ben (Jarod Davis, a freshman mechanical engineering major from Angola, Indiana), but by the time it is revealed their relationship is innocent, Don has shot the pair as well as Camille.
Camille wishes that events would have turned out differently and suddenly the quartet finds themselves back at the beginning of the party, doomed to live the hour over again – as themselves, as British aristocrats, as gangsters and other variations — until they can somehow break the cycle.
Jacob McNeal of Hamilton, Indiana, will be assistant director for the performances, with Jan Thomas of Angola, Indiana, serving as stage manager.
For more information, contact Hopp at 260.665.4852 or hoppt@trine.edu.