Sen. Young to speak at Trine's 132nd commencement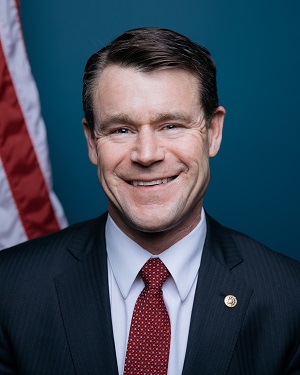 Sen. Todd Young of Indiana will deliver the commencement address at Trine University in May before what will be the largest graduating class in Trine history.
"We are privileged to welcome Sen. Todd Young to deliver the keynote address for Trine University's commencement ceremony," said Earl D. Brooks II, Ph.D., Trine president. "As someone who has served our nation both as a distinguished military officer and now in the United States Senate, Sen. Young is a shining example for our graduates and for all of us."
Sen. Young is scheduled to speak during Trine's 132nd commencement ceremony at 10 a.m. Saturday, May 13, in the Keith E. Busse/Steel Dynamics Inc. Athletic and Recreation Center on the main campus in Angola. Trine's 2017 record-setting class of 978 students also includes the first graduates from the university's Doctor of Physical Therapy program.
Sen. Young was elected in 2016 to the U.S. Senate seat vacated by the retirement of Sen. Dan Coats, after serving in the U.S. House of Representatives since 2010.
The son of a small business owner and a nurse, Sen. Young grew up in Indiana and graduated from Carmel High School, mopping floors at the family business after school. He earned an appointment to the U.S. Naval Academy, where he graduated with honors.
He then accepted a commission in the Marine Corps, serving as an intelligence officer specializing in counter-narcotics and anti-terrorism. Later in his service he led recruiting efforts for Chicago and northwest Indiana, during which time he attended night classes and earned his MBA with a concentration in economics from the University of Chicago. He received an honorable discharge as captain after 10 years of service.
Before returning to Indiana, Sen. Young worked briefly in Washington for the Heritage Foundation and on the staff of Indiana Sen. Richard Lugar. Upon returning home to Indiana, he worked as a management consultant during the day while putting himself through night classes to earn a law degree from Indiana University. He also worked for the 2004 campaign to elect Gov. Mitch Daniels.
Following Sen. Young's graduation from law school, he and his wife Jenny worked at the small law firm started by her grandfather, giving back to the community by offering free legal services to couples looking to adopt. From 2007 until his election to Congress, he served as assistant deputy prosecutor in Orange County, Indiana. When not in Washington, he and Jenny live with their four children in Bloomington.
Everyone is welcome to attend Trine University's commencement. For more information, visit trine.edu/commencement.