Christmas trees on display at Trine beginning Friday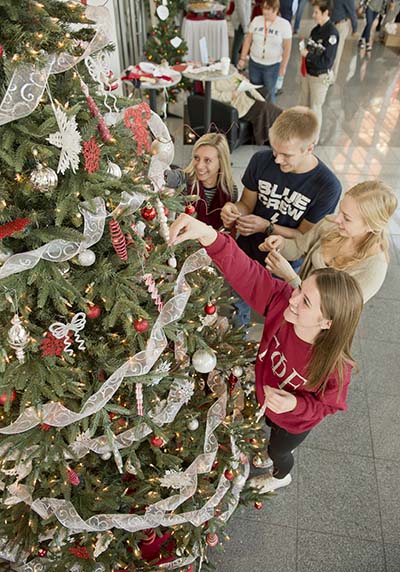 More than 40 Christmas trees will be on display in the Rick L. and Vicki L. James University Center at Trine University beginning Friday, Dec. 1, through Thursday, Dec. 14.
The trees have been decorated by academic departments, offices and student groups at Trine and will be donated by Project Help of Steuben County to local families who may not have a tree for Christmas. Trine University departments and student organizations also each will fill one Christmas stocking to be given to a local child.
Those who attend the university's free Annual Community Christmas Concert at 3:30 p.m. on Sunday, Dec. 3, in the T. Furth Center for Performing Arts are encouraged to walk to the University Center to check out the display. Dinner will be available to the public from 4:30-6:30 p.m. in Whitney Commons for $13.27 for adults, $6.71 for children 6-12 and ages 5 and under free.
Toiletries and paper products will be collected at the concert to donate along with the trees and stockings.
The University Center is open to the public.