Ellspermann to speak at Trine Distinguished Speaker Series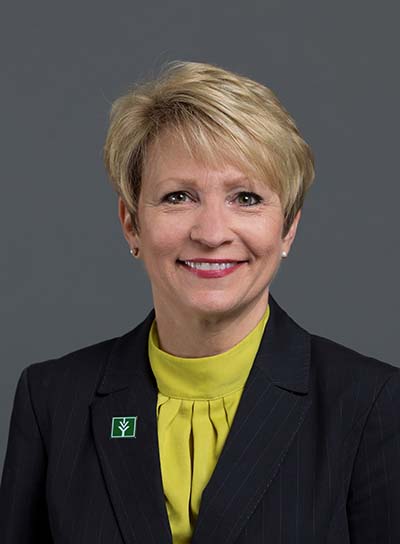 Sue Ellspermann, Ph.D., the ninth president of Ivy Tech Community College, will be featured in the third fall installment of Trine University's Distinguished Speaker Series.
Ellspermann's presentation will begin at 10 a.m. Monday, Oct. 30, in Ryan Concert Hall of the T. Furth Center for Performing Arts.
As the first female Ivy Tech president, selected in May 2016, Ellspermann has more than 30 years of experience in higher education, economic and workforce development, and public service.
She served as Indiana's 50th lieutenant governor from 2013 until March 2016. In that role, she served as president of the Senate and secretary of Agriculture and Rural Affairs, as well as oversaw six agencies including the Office of Small Business and Entrepreneurship, Indiana Office of Tourism, Indiana State Department of Agriculture, Indiana Housing and Community Development Authority, Office of Community and Rural Affairs, and Office of Defense Development. She served as the co-chair for the Blue Ribbon Panel on Transportation Infrastructure and the Rural Broadband Working Group and led agriculture trade missions to Japan, South Korea, Taiwan and China.
From 2006 to 2012 she served as the founding Director of the Center of Applied Research and Economic Development at the University of Southern Indiana (USI). She also has classroom experience teaching at USI, University of Evansville and University of Louisville.
In her role with the Center of Applied Research and Economic Development at the University of Southern Indiana, she engaged faculty, staff and students in applied research and consulting in more than 200 different projects to impact economic development in southwest Indiana, the state and region. With her background in industrial engineering, she also assisted the department of engineering through accreditation and developing industrial engineering curriculum.
In 2010 Ellspermann was elected as the State Representative for District 74 (portion of Dubois, Spencer, Perry and Warrick counties). While in office she served as the vice-chair of the Employment, Labor and Pensions Committee, and also served on the Small Business, Commerce and Economic Development Committee, and the Elections and Reapportionment Committee.
The 20 years prior to joining the University of Southern Indiana, she owned and operated Ellspermann and Associates, Inc., d/b/a Basadur Applied Creativity, an independent consulting firm licensed in the training and facilitation of Simplex Creative Problem Solving. Her clients included Kimball International, Microsoft, Mead Johnson and numerous small businesses and non-profit organizations. Early in her career she spent time with Frito-Lay in Dallas, Texas, and Michelin Tire Corporation in Greenville, S.C.
Ellspermann holds a Ph.D. and M.S. from the University of Louisville in industrial engineering. She holds a B.S. from Purdue University, also in industrial engineering.
She is married to James Mehling, a principal at Forest Park Junior-Senior High School. She has a blended family of four daughters, three sons-in-law, two grandsons and two granddaughters.
Designed to give educational enrichment that complements other learning experiences, Trine University's Distinguished Speaker Series brings experts in various fields to campus throughout the school year. All Distinguished Speaker Series events are free and open to the public.
For more information, contact Gretchen M. Miller at millerg@trine.edu or 260.665.4312.