Trine receives grant to partner in 'Frankenstein' celebration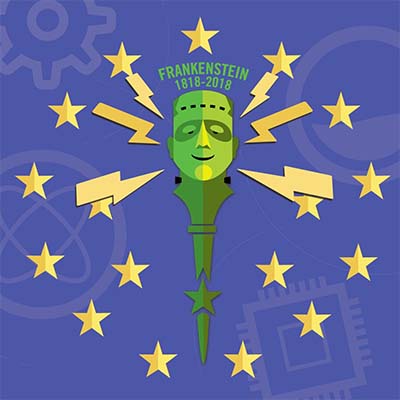 Trine University has received a grant from Indiana Humanities to partner in that organization's celebration for the 200th anniversary of Mary Shelley's "Frankenstein."
Funded by a grant from the National Endowment for the Humanities, the One State/One Story: Frankenstein emphasis will feature events across the state of Indiana.
Trine will receive $5,000 to provide an excellent experience for students in the new "Science Fiction: Frankenstein and the Mad Scientist in Literature" course during the spring semester, taught by Cassandra Bausman, Ph.D., assistant professor of English. The class will explore Shelley's text and pay particular attention to its remarkable afterlife in literature, film and popular culture, incorporating novels, short stories, poetry, graphic novels, hypertexts, plays, visual art and film.
Bausman also will be part of the "Frankenstein" Speakers Bureau assembled by Indiana Humanities. Scholars will travel across Indiana and share their expertise with audiences of all ages.
The grant will allow Trine to bring in speakers from the bureau as part of its spring Humanities Symposia to give talks on Frankenstein and the issues it presents, such as bioethics and genetic engineering. Other projects will include related film screenings and discussion, an artistic workshop and art show based around creature-design and individual/cultural conceptions of monstrosity, collaboration with the Allen School of Engineering's construction of "Frankenstein"-themed robots, and a horror-story/science fiction write-in workshop hosted jointly by the Frankenstein course and the Trine University Writing Center.
Students also will have the opportunity to take a bus trip to Notre Dame to see the staging of Jane Austen's "Persuasion" and visit a special exhibit featuring a rare first edition of "Frankenstein" at Indiana University's Lilly Library.
" 'Frankenstein' represents an ideal example of the how the arts and sciences can powerfully combine," said Bausman. "It raises important questions about the complex ways advancements in science and technology shape society. We at Trine University are thrilled to connect this larger statewide conversation to our campus community."
Published anonymously in 1818, "Frankenstein" tells the story of a young scientist who discovers the secret of giving life to non-living matter and creates a grotesque, but intelligent, humanoid creature.