Speaker, music to highlight 27th MLK celebration at Trine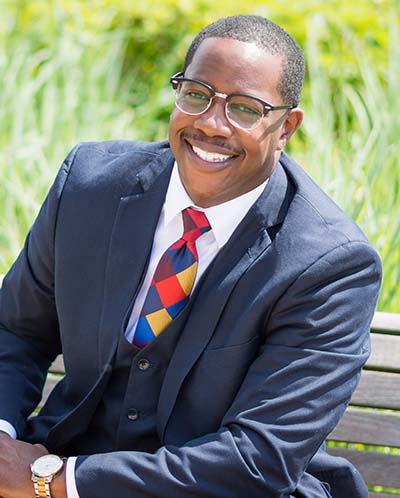 An alumnus who inspires youth and human services workers as a motivational speaker and choirs from Union Baptist Church in Fort Wayne and Angola High School will highlight the 27th annual Dr. Martin Luther King Jr./Black History Month Celebration at Trine University.
The event, themed "Rhythm of Unity," will begin at 7 p.m. Friday, Feb. 2, in the Ryan Concert Hall of the T. Furth Center for Performing Arts. It is free and open to the public, and refreshments will be served.
Andre M. Ebron, president and CEO of Ebron & Associates and dean of culture at American Promise Schools, will serve as keynote speaker. A 2004 graduate of Trine University, Ebron is a transformational leader, motivational speaker, educator, minister, husband and father, whose message of inspiration and empowerment has provoked many to thought and many more to action, leading them from effectiveness to greatness.
His passion for youth development and community outreach is evident in his service as a Family Service Worker II for the National Head Start Organization, foster care specialist for private agencies in Michigan, service specialist for the state of Michigan, director of admissions for Cornerstone Schools Association and dean of students for Cornerstone Charter Schools.
The Union Baptist Church Choir from Fort Wayne will perform at the celebration. One of four choirs at the church, the Adult Choir has 23 members and three instrumentalists (drummer, organ and pianist) under the direction of minister of music Niyoki Chapman. The choir often travels with the church pastor when he speaks and is part of the church's Easter and Christmas celebrations.
The Angola High School choirs also will perform at the event. The Angola High School Choirs are made up of approximately 40 singers in two different performing groups, Vocal Point and Vocal Infinity. The choirs perform different styles of music including vocal jazz, a cappella, traditional concert repertoire, show tunes and pop music.
Angola Choirs perform in and around the city for sporting events, seasonal concerts, community special events and music festival competitions. Erin Bean, who is in her 12th year of teaching music, directs the choirs.
Angola Mayor Richard Hickman and Elyse Buehrer, a 2016 Trine alumna, also will participate in the program along with Trine University students, faculty and staff.
The event is co-sponsored by the Multicultural Student Organization, Christian Campus House, Office of International Services, Office of Student Success & Retention, Student Government and Theta Phi Alpha.