Repass featured for Distinguished Speaker Series, 9/11 remembrance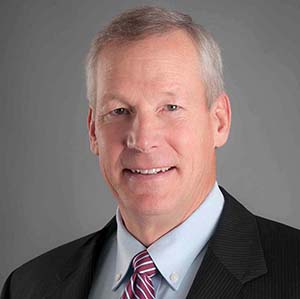 Retired Major Gen. Michael S. Repass, founder and chief executive officer for Able Global Solutions LLC, will be the first speaker in Trine University's 2017-2018 Distinguished Speaker Series.
The Sept. 11 event in the Ryan Concert Hall of the T. Furth Center for Performing Arts will include a remembrance of those who lost their lives in the Sept. 11, 2001, terrorist attacks. The Distinguished Speaker Series begins at 10 a.m. and is free and open to the public.
Repass founded AGS in 2013 after retiring from the Army. The company focuses on international business development to match emerging technology and proven products with potential clients. AGS also examines trends and environments for strategic perspectives.
His military career began in 1980 after he graduated from the United States Military Academy at West Point, New York. He served as an infantry officer in multiple junior office assignments, including company commander, before spending more than 30 years as a Special Forces officer. He commanded at every level in special forces from captain to major general and eventually served as the Commanding General, U.S. Army Special Forces Command, and then U.S. Special Operations Command, Europe in successive tours.
His awards include two Army Distinguished Service Medals, Defense Superior Service Medal, the Legion of Merit, two Bronze Stars, two Joint Meritorious Service Medals, four Meritorious Service Medals, five Army Commendation Medals, one Joint Service Achievement Medal, and two Army Assault badges, and Ranger and Special Forces tabs. He has multiple foreign decorations, accomplishment badges, and honorary awards from the Czech Republic, Estonia, Germany, Hungary, Lithuania, the Netherlands, Poland, Romania and Slovakia.
Designed to give educational enrichment that complements other learning experiences, Trine University's Distinguished Speaker Series brings experts in various fields to campus throughout the school year. All Distinguished Speaker Series events are free and open to the public.
For more information, contact Gretchen M. Miller at millerg@trine.edu or 260.665.4312.