Cast announced for '6 Short Plays'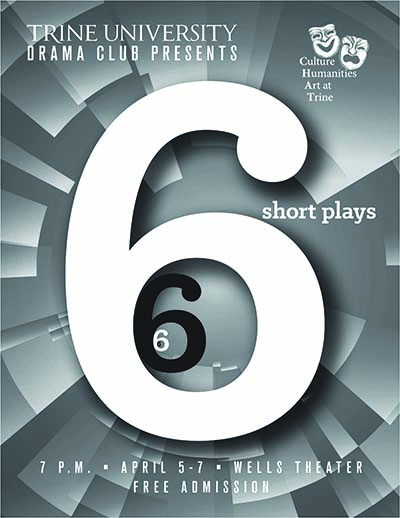 The Trine University Drama Club has announced the cast for its upcoming production of "6 Short Plays."
Performances will take place from Apr. 5-7 beginning at 7 p.m. each night in Wells Theater inside Taylor Hall on Trine's campus. All performances are free and open to the public.
Cast members are:
Nathan Barnett, a freshman from New Castle, Indiana, majoring in mechanical engineering
Cyrus Colyer, a senior from Coldwater, Michigan, majoring in biology
Alex Kromkowski, a freshman from Talma, Indiana, majoring in psychology
Jacob McNeal, a community member from Hamilton, Indiana
Travis Riddle, a junior from Stroh, Indiana, majoring in computer engineering
Kathryn Riehle, a sophomore from Defiance, Ohio, majoring in chemical engineering
Mariah Rodriguez, a sophomore from Long Beach, California, majoring in civil engineering
Ivy Rubel, a sophomore from Bradner, Ohio, majoring in design engineering technology
Hannah VanKersen, a freshman from Imlay City, Michigan, majoring in criminal justice
Griffin Watson, a freshman from Sterling Heights, Michigan, majoring in criminal justice
Jenna Wilson, a freshman from Richmond, Indiana, majoring in forensic science and biology
Tyme Willoughby, a freshman majoring in chemical engineering from New Richmond, Ohio, will serve as the stage manager for the production.
"6 Short Plays" is a series of six short, one-act plays that deal with love and theatre. While the plays aren't necessarily connected, they're all comedic in their own way. The plays contain some adult content.
Tickets for the showing are free and will be available at the door. Seating is limited to 75 and will be available on a first-come, first-serve basis.
For more information, contact hoppt@trine.edu or (260) 687-9852.