Addison Agen performing at Trine on March 10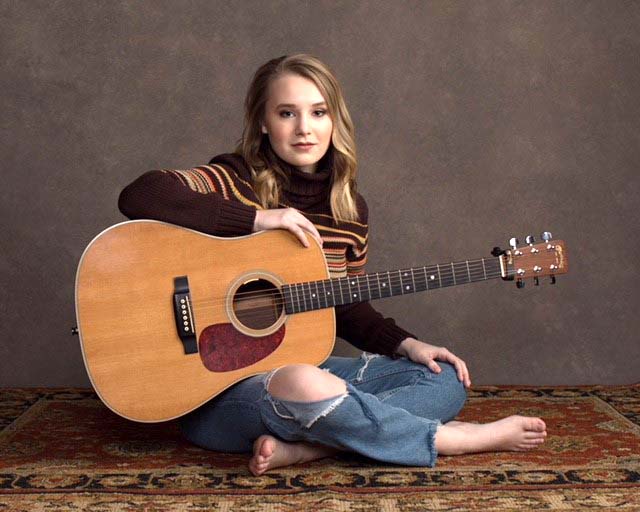 She dazzled coaches and millions of viewers as runner-up on NBC's "The Voice," and now Fort Wayne's Addison Agen will bring her vocal talents to Trine University.
In her first solo concert outside her hometown, Agen will perform Saturday, March 10, in Ryan Concert Hall of the T. Furth Center for Performing Arts. The concert begins at 8 p.m., with doors opening at 7 p.m.
Tickets go on sale beginning at 10 a.m. Friday, Feb. 2, and range from $10-$35.
Adam Levine, Maroon 5 frontman and longtime coach on NBC's "The Voice," has described Agen as a unicorn, a mythical creature.
But she is nothing if not an atypically grounded, humble and levelheaded 16-year-old Concordia Lutheran High School student.
After finishing in second place on Season 13 of "The Voice," Addison is ready to take what Levine described as "one of the most special gifts I've ever had the pleasure of working with" and share it with the world.
From an early age, Addison had a unique perspective on the power of music.
Her mother, Kristine Agen, is a music therapist and worship leader who ministers to many people in need in northeast Indiana.
Addison recalls accompanying her mom to nursing and hospice homes.
"She works with people right up until their deaths," she said. "I was with her for one of those times. There were two people in adjacent rooms who were about to die. She left me in one room and she went to the other. And I sang 'Amazing Grace' all by myself. I was 5 years old."
Watching her mom use music to heal, Addison came to the early conclusion that music was too important to be relegated to the background.
Agen played her first piano recital at 2 and braved her first open mic night at 9. She performed regularly with her family's band and was the first artist to appear on a small stage her father, Morrison Agen, constructed in his Fort Wayne record store, Neat Neat Neat.
All the while, she felt she was receiving divinely inspired messages about music.
"All those things in my life were God showing me, 'Hey, this is actually important,' " Addison says. " 'Look at this example. And this one too. And this is what you'll be doing.' "
Addison says Levine, her coach on "The Voice," was a good match for her during Season 13 because he was much more concerned with the substance of performances than such trappings as make-up and hairstyling.
"That's when I knew, 'This is my dude,' " she says. "He doesn't care what I look like. Only what the music is saying."
Levine has committed himself to helping her get her career launched, Addison says.
"He has 11 million followers on Instagram," she says. "And he's willing to put all his effort and time into me. He is been a huge influence. I want to give back as much as he has."
Addison wants to create music for everyone, not just for a specific demographic.
"I never want it to be specific to one generation," she says. "That's not how I grew up. Music wasn't classified by age. I want all ages to connect with my music."
When reporters write and talk about Addison, they tend to focus on her age.
But Morrison Agen says his daughter's uniqueness resides elsewhere.
"It's entirely beyond that," he says. "It's really about her authenticity. Every time she opens her mouth, every time she writes a song, it is entirely and completely her."
Addison insists that she feels no fear about the adventures that await her.
"I am just excited for the future," she says. "Coming out of 'The Voice,' the biggest thing I learned is that I have so much more to learn."
Addison says she is ready to learn.
For more information on the concert, visit trine.edu/furth.