Angola choirs uniting for 'Rhythm of Unity'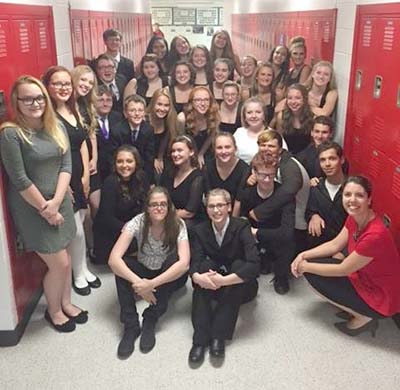 On a night that celebrates unity, the Angola High School choirs will unite to help honor the life and legacy of Dr. Martin Luther King Jr.
The 45 members of the Vocal Point concert choir and Vocal Infinity show choir will sing with one voice during "Rhythm of Unity," which begins at 7 p.m. Friday, Feb. 2, in Ryan Concert Hall of the T. Furth Center for Performing Arts at Trine University.
"I'm excited to be part of this celebration, to see how we can be unified not only as singers, but as a community," said Erin Bean, Angola High School choir director. "I hope it shows the students how we can cross barriers and how unity is something to be appreciated and valued."
It will be the first time the choirs have participated in the annual event, which marks the 27th anniversary of Trine University's Multicultural Student Organization and highlights Dr. King's accomplishments and vision. "Rhythm of Unity" is free and open to the public.
The combined choirs will perform two pieces reflecting the theme of multiculturalism and unity. "Harriet Tubman," by Walter Robinson and arranged by Kathleen McGuire, features a capella vocals in a tribute to the famed anti-slavery activist. "Nda Wana," arranged by Michael Barrett, is an African game song performed in Venda, a Bantu language that is an official language of South Africa.
"The students enjoy these pieces and are excited to be able to share them with the community and a larger audience," said Bean.
Deb McHenry, executive director of student success and retention at Trine and advisor to the Multicultural Student Organization, said she reached out to Bean after receiving her contact information from Lynn Syler, former Angola High School choir director.
"Lynn used to have a vocal group called Revelations," said McHenry. "I inquired about that group and Lynn said they didn't exist any longer, but she shared Erin's name with me."
McHenry said she hopes the choirs will continue to perform in future years.
"I think it will be a wonderful opportunity for more of the Angola community to be part of the Dr. Martin Luther King program," she said. "I also think it will impact the lives of the students who sing in the choir. I'm looking forward to seeing all the people come together to celebrate."
In addition to the Angola choirs, the celebration will feature music by the choir from Union Baptist Church in Fort Wayne. Andre Ebron, a 2004 Trine alumnus who serves as president and CEO of Ebron & Associates and dean of culture at American Promise Schools, will serve as keynote speaker.