Trine honored with CASE V Silver award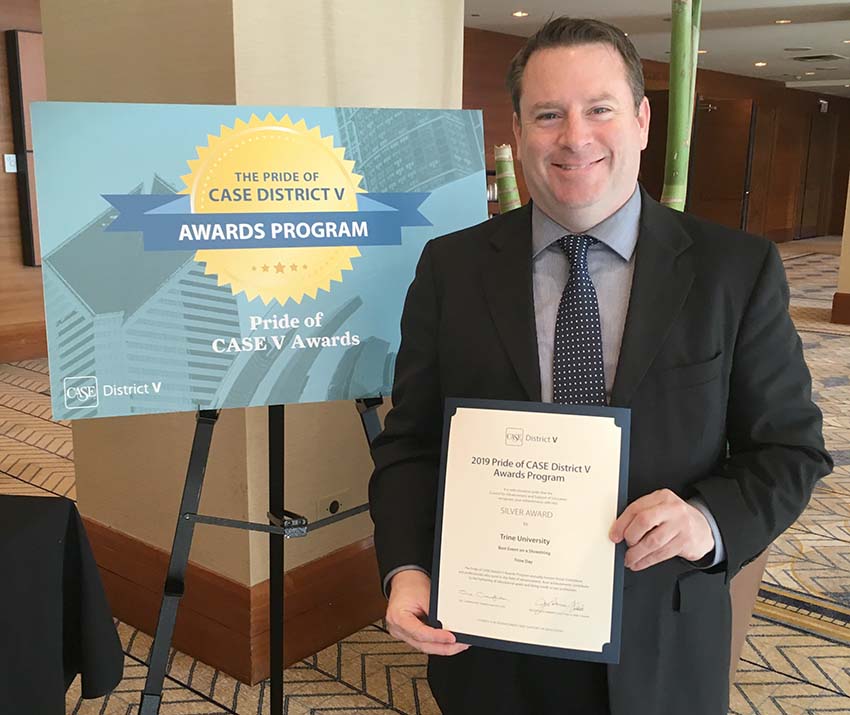 CHICAGO — Steven Nicolet, director of annual giving, received a Silver award from District V of the Council for Advancement and Support of Education (CASE) during the organization's annual conference in Chicago on Dec. 11.
The award was presented to the university in the "Best Event on a Shoestring" category for Trine Day on April 13, 2018. The one-day, 24-hour challenge invited alumni, students, employees and friends to celebrate by dressing in their favorite Trine gear and supporting the university with a charitable contribution. It included on-campus events as well as social media campaigns and updates on the Trine website.
With a dedicated budget of less than $300, Trine Day raised more than $83,000 from 259 donors. It was part of an effort that saw ninety-six percent of Trine faculty and staff make a charitable gift to the university over the course of the year.
The team that planned and executed the program included: Nicolet; Lisa Maxwell-Frieden, vice president for alumni and development; Matt Land, assistant vice president of athletics; Sarah Belote, director of alumni relations; Mary Ditmars, executive assistant for the Office of the President; Deborah Richard, director of digital marketing; Denise Draper, marketing and communications coordinator; Jennifer LaRose, event services; Alex Rossmann, director of student leadership; O'Shea Owens, director of student activities; and Jeremy Howard, director of student engagement.
Trine won two Circle of Excellence awards from the national CASE organization in 2012. That year, Julie Hoy, senior creative media specialist, received the Gold award in the "Excellence in Design: Invitations" category, and Dean Orewiler, staff photographer, won the Bronze award for Photographer of the Year.