Meals, fireworks to mark Chinese New Year at Trine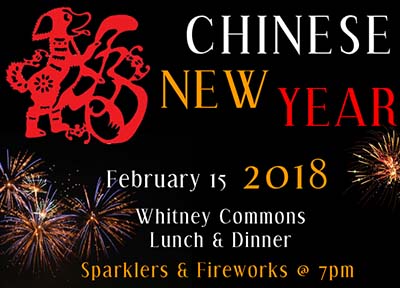 Trine University will help the Chinese students in its community usher in the Chinese New Year with special meals and a very loud fireworks display on Thursday, Feb. 15.
"In China, it's traditional that the fireworks used to celebrate have a very loud boom to scare away evil spirits," said Mari McHenry, director of international community services at Trine. "Jeremy Howard, our director of student engagement, and Johnny Lemas Fireworks, which is putting on the display, are familiar with the tradition, and these fireworks will have plenty of volume to keep the spirits away."
The Whitney Commons will feature a station with varieties of pho, a traditional soup including broth, rice noodles and meat, as well as stir fried baby bok choy with shiitakes and vegetable pot stickers for lunch on Feb. 15. Dinner that day will include five-spice braised pork ribs, Kung Pao chicken, steamed rice, steamed brown rice, vegetable lo mein, Szechuan fried green beans, vegetarian "Mapo Style" tofu, chilled sesame broccoli salad, Chinese chicken salad and honey ginger carrot salad.
The guest price for each meal will only be $5 to celebrate the day, and activities including calligraphy and Chinese Zodiac signs will be available inside the commons during both meals.
At 7 p.m., spectators are invited to the fire pit outside the Rick L. and Vick L. James University Center to watch the free show. Hot cocoa and sparklers also will be available.
The actual Chinese New Year begins on Friday, Feb. 16, and will be celebrated with festivals in China and other Asian countries. The upcoming year will be the year of the Dog.