Trine trustees renew president's contract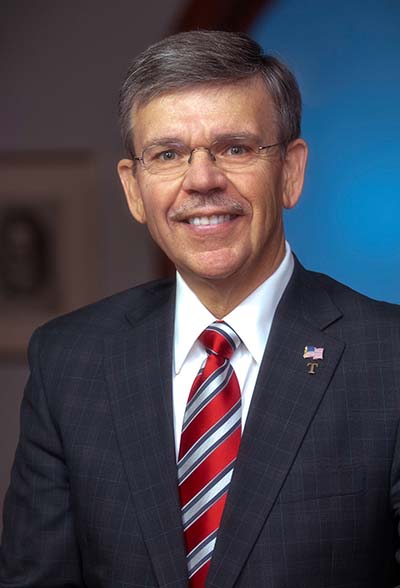 The Trine University Board of Trustees has renewed the contract of President Earl D. Brooks II, Ph.D., for five years, through the 2022-23 school year.
The board approved the action unanimously at its May 4 meeting.
"Trine University has flourished in all areas under Dr. Brooks' outstanding leadership, with ongoing growth in enrollment, fundraising, academic programs, and outcomes for our alumni," said Dr. Rick L. James, chair of the Trine University Board of Trustees. "We are confident that his continued direction will allow the university to build on the positive momentum that has been generated over the past 18 years."
"I am grateful for and humbled by the confidence expressed by the Board of Trustees with this decision," said Brooks. "As Trine University moves forward into the next decade, I will work with the entire university community to continue to provide our students the personal attention, excellent faculty and career-focused majors that have been the hallmark of a Trine education since its founding in 1884."
Brooks became what was then Tri-State University's 16th president in 2000. Since coming to Trine, he has spearheaded a successful $90 million capital campaign, headed initiatives to revitalize campus, positively engaged the surrounding community, cultivated relationships with alumni and friends, and sought new opportunities for students. In the fall of 2013, Trine kicked off a $75 million campaign that has since expanded to $125 million, focusing on capital improvement projects, endowment and the annual Trine fund.
The university recently celebrated 16 consecutive years of balanced budgets, with record positive cash flows in recent years, and will retire its endowment loan next year. The university endowment of $35 million is more than triple what it was 15 years ago. Trine's economic impact is more than $100 million on local, regional and statewide economies, more than four times the 2000 figure.
Brooks oversaw the transition from Tri-State University to Trine University in 2008, which helped the university better define its mission and direction. The decision was part of a strategy that has spurred the university to continued growth, with Trine's fall 2017 enrollment of 5,184 coming in at nearly four times the number when Brooks took office. The residential population has nearly tripled during this time, as well.
The university maintains an impressive career placement average of more than 99 percent over the past four years. Trine also continues to successfully expand its academic programs, graduating its first doctoral class of physical therapists with the Class of 2017. Trine will launch its Master of Physician Assistant Studies and Ph.D. in entrepreneurial leadership programs this fall.
Since 2000, the university has invested more than $155 million to transform the campus. Additions during that time have included academic buildings, student recreation and housing and athletic facilities, including the Thunder Ice Arena, home to new university and community hockey and skating programs, in 2017, and the MTI Center, the home for Thunder basketball, bowling and esports, earlier this year.