Inside INdiana Business host, creator to speak at Trine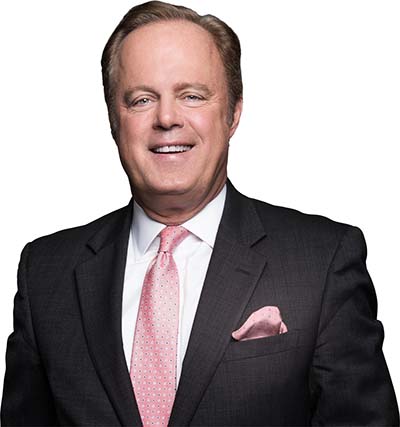 Indiana business media leader and television host Gerry Dick will bring his insights into the state's business climate to Trine University's Distinguished Speaker Series on April 10.
His presentation will begin at 3 p.m. in Ryan Concert Hall of the T. Furth Center for Performing Arts. All Distinguished Speaker Series events are free and open to the public.
"Gerry Dick has been at the forefront of informing the public and business community about critical issues that impact the Hoosier economy and quality of life," said Earl D. Brooks II, Ph.D., Trine University president. "I look forward to the knowledge and understanding he will share with Trine University students and the Angola community."
The host and creator of Inside INdiana Business television, Gerry Dick serves as president and managing editor of Grow INdiana Media Ventures, LLC, an Indianapolis-based media company focused on producing and distributing Indiana business news and information through multiple media channels. Gerry and technology entrepreneur Scott Jones form Grow Indiana Media Ventures' ownership team.
More people get their Indiana business news from Inside INdiana Business than any other source. Gerry Dick's television show is broadcast on 15 Indiana network and public stations, daily radio reports are available on 27 statewide stations, and news is available on-demand from a collection of email, web and mobile business news products.
Gerry has been awarded one of the state's top honors, the Sagamore of the Wabash, three times, by Governors Joe Kernan, Mitch Daniels and Mike Pence. He has been awarded Ernst and Young's prestigious Entrepreneur of the Year Award and recognized by the Small Business Administration as its Journalist of the Year. Inside INdiana Business with Gerry Dick has received an Emmy three times for best interview/discussion program/series or special.
Gerry is a frequent keynote speaker and moderator on issues related to Indiana business and the state's economy and also serves as a business news analyst for WTHR-TV (NBC) and 93.1-FM - WIBC radio in Indianapolis.
Designed to give educational enrichment that complements other learning experiences, Trine University's Distinguished Speaker Series brings experts in various fields to campus throughout the school year. For more information, contact Gretchen M. Miller at millerg@trine.edu or 260.665.4312.