Eck finalist for Honda Inspiration Award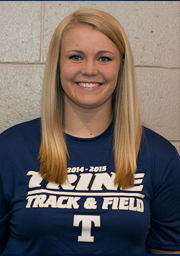 Trine University women's track and field athlete Kara Eck (Auburn, Ind./DeKalb) is one of three finalists for the national Honda Inspiration Award sponsored by The Collegiate Women Sports Awards.
The Honda Inspiration Award is given to a deserving female student-athlete in Division I, II or III who has experienced extraordinary physical and/or emotional adversity, injury and/or illness, or experienced extraordinary personal sacrifice during her college enrollment as a student-athlete and yet returns to athletic success.
Read more at trinethunder.com.