Humanities Symposia opens with look at would-be saint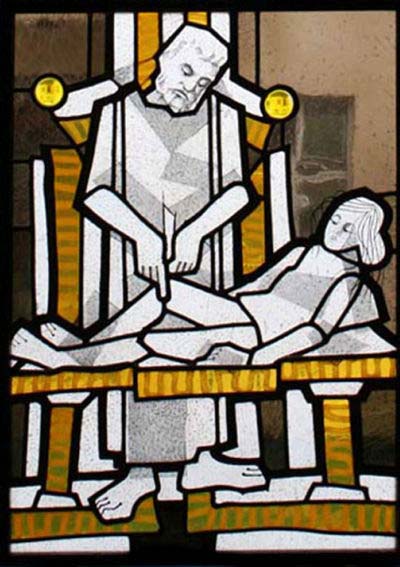 When Melissa Mayus, Ph.D., opens Trine University's Spring Humanities Symposia on Tuesday, Feb. 13, she makes one promise about her topic.
"I won't make people try to pronounce the name," she joked.
Though Hrafn Sveinbjarnarson, the subject of "Bloodfeud and Miracles: Creating and Killing a Saint," may not roll off the tongue easily, the Icelandic chieftain and doctor still makes for an interesting story reflecting the medicine, religion and culture of medieval times. It's one that fascinated Mayus, assistant professor in Trine's Department of Humanities and Communications, while she worked on a master's degree in medieval Icelandic studies.
The Humanities Symposia, beginning at 3:30 p.m. in Wells Theater inside Taylor Hall on the Trine University campus, is free and open to the public. However, seating is strictly limited to 75.
Born around 1166, Sveinbjarnarson rose to prominence in Iceland and traveled extensively throughout Europe. He was considered Iceland's first educated doctor, and his saga contains details about surgical practices during the 12th century.
Eventually he attracted the attention of rival chieftain Thorvald Snorrason, who was jealous of Sveinbjarnarson's success. What started out as petty insults between the two escalated into a full-blown feud.
"The people of medieval Iceland believed there was only a certain amount of honor to go around. It was a zero-sum game," Mayus said.
Though there were laws at the time, enforcement was left up to citizens, Mayus said, resulting in situations not unlike the duel — now the centerpiece of a Broadway musical — that killed Alexander Hamilton in the early history of the United States. In Sveinbjarnarson's case, Snorrason's forces eventually surrounded his farmstead and killed him in 1213.
During his lifetime Sveinbjarnarson was a confidant of Bishop Gudmundr Arason, later honored like a saint by the church in Iceland. The writer of Sveinbjarnarson's saga is not subtle about wanting to see the chieftain/physician honored with sainthood, Mayus said, attributing several miracles to the saga's hero.
"It's a very biased saga, but (Sveinbjarnarson's) cause for sainthood was never taken up," she said.
Mayus' interest in Sveinbjarnarson and medieval Iceland began while she in the country during a break from her Ph.D. work at the University of Notre Dame. Her studies in Old English had led to an interest in similar languages.
While there, she read Sveinbjarnarson's saga and visited what once was his farmstead.
"Even the site of his farm is treated as a sacred space in the saga, though it wasn't during his lifetime," she said.