Franzen named dean of Trine's Jannen School of Arts and Sciences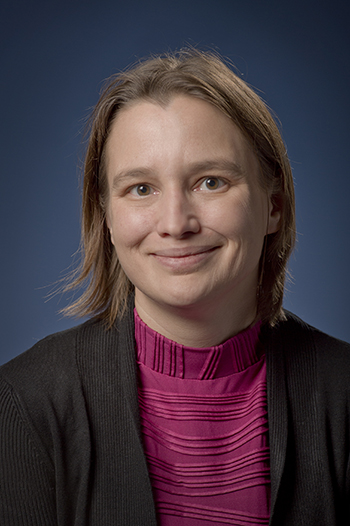 Sarah Franzen, Ph.D., assistant vice president of accreditation and assistant professor in Trine University's Department of Humanities and Communication, has been named dean of the Jannen School of Arts and Sciences at Trine University, beginning in the spring semester.
In her new role, Franzen will oversee five academic departments – Mathematics and Physics; Criminal Justice; Psychology and Social Sciences; Music; and Humanities and Communication. She will continue to serve in her role as the university's liaison to the Higher Learning Commission.
"The two previous deans, Craig Laker and Amy Nicholls, have set a very high standard for excellence, both in academic programs and focus on students and teaching," said Franzen. "I look forward to following in their – large – footsteps and hope to serve the Jannen School well."
John Shannon, Ph.D., vice president for academic affairs, said Franzen brings tremendous academic knowledge to the dean position.
"Dr. Franzen is a well-respected, knowledgeable, dedicated academic leader," he said. "Her proactive style and willingness to listen will make her an empowering, inclusive and receptive dean. We all look forward to her many contributions as she leads the Jannen School forward."
Franzen holds a Doctor of Literature and Criticism degree from Indiana University of Pennsylvania, as well as master's and bachelor's degrees from Indiana University. She joined Trine University in 2009 as an instructor in the Department of Humanities and Communication, later becoming an assistant professor.
As a faculty member, Franzen has twice been recognized with the Robert Ewing and Gail Stewart Smith Excellence in Teaching Award, as well as the 2017 Trine University Faculty Research Award and the 2018 Barrenbrugge Award for Faculty Excellence. She also was honored with the Outstanding Dissertation Award in Literature and Criticism by Indiana University of Pennsylvania in 2017.