For mayor, Trine's MLK event a time to reflect, renew friendships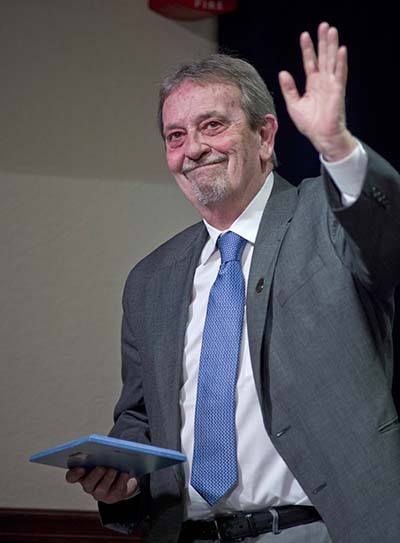 A part of Trine University's Dr. Martin Luther King program for longer than the 17 years he has served in office, Angola mayor Richard Hickman thinks the world regularly needs to remember the life of Dr. Martin Luther King Jr.
"Unfortunately, right now I don't think we have a Dr. Martin Luther King Jr. in our country, and we need him so badly," said Hickman. "I think it's very good the university hosts this program so that this generation can see what Martin Luther King did. He reminded all of us of what the American dream is and that it is for everybody, not just a few people."
The free annual program begins at 7 p.m. Feb. 2 in the university's T. Furth Center for Performing Arts and also celebrates the 27th anniversary of the university's Multicultural Student Organization (MSO). Hickman will introduce keynote speaker Andre Ebron, one of the many students he has come to know through his involvement in the event.
Ebron, a 2004 Trine alumnus who was president of MSO during his time as a student, now serves as president and CEO of Ebron & Associates and dean of culture at American Promise Schools.
"I see him every year at this event and get to talk to him about what's new in his life, and all the things he's involved with between youth and the charter school where he works," Hickman said. "It's quite amazing how he has time to do all the things he does, but he does them very well and he's very passionate about it.
"He always has seemed to be older than what he is and wiser than his age. He deeply cares about youth and he wants everybody to have the same opportunity to have great things in this country."
Hickman said he looks forward to being part of the program every year.
"Listening to the music they have over there gets you all revved up and they always have good speakers," he said. "I appreciate what they have to say in remembrance of Dr. Martin Luther King — what he was all about and what we should be striving for."
"My generation knew about Dr. Martin Luther King growing up, but I don't think we appreciated him as much as we do now that we realize the barriers he had and everything he did to break those barriers down," said Hickman. "But there's still so much room for improvement."
The mayor would like to see the Angola community become even more involved with the celebration, not only to recognize Dr. King's legacy, but to be exposed to the diverse cultures represented at Trine.
"You get to know these young adults from all parts of the country and all parts of the world," he said. "I think it gives us a chance to have a better understanding of how people view us, as well as a chance to view other parts of the world through them.
"The university brings so many things we need to wrap our arms around. Not just the academics, but the Furth Center and the sports programs. Trine makes this community a lot different than any other community of 9,000 people."
Photo: Angola Mayor Richard Hickman waves after receiving an Unsung Hero award during the 2017 Dr. Martin Luther King Jr. and Black History Month Celebration at Trine University. Hickman was honored for his longtime support of the event. (Photo by Dean Orewiler)