John Shannon returns to lead Trine academics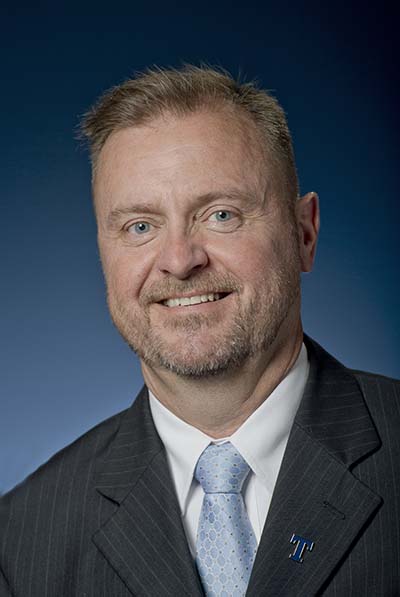 John Shannon, Ph.D., has returned to Trine University as vice president for academic affairs, effective June 1.
Shannon previously served as vice president for academic affairs at Trine from 2012-2015, following five years as dean and professor in the university's Jannen School of Arts and Sciences. He returns to Trine after leading academics since 2015 at the Indiana Institute of Technology.
He replaces A. Allen Hersel, Ph.D., who had served as vice president for academic affairs since 2015 and is returning to his former role as dean of the Allen School of Engineering and Technology.
"With Dr. Hersel looking to return to having a more personal impact on Trine University engineering students, we are fortunate to welcome Dr. Shannon back into the fold," said Earl D. Brooks II, Ph.D., Trine University president. "His past success at Trine University and extensive experience with its academic programs will be invaluable as we grow our existing majors and look to expand our offerings."
"Trine University has continued to grow at an incredible pace in the short time I have been away," said Shannon. "I look forward to building on the success that the university's academics have experienced under Dr. Hersel's leadership, as we develop new career-focused programs to meet the needs of Trine students, the northeast Indiana region and the world at large."
During his prior tenure as vice president at Trine, Shannon oversaw the launch of several new academic programs at Trine, including the Doctor of Physical Therapy, Trine's first doctoral program, the Master of Business Administration and the Master of Science in engineering management. He also led enrollment growth and the development of new academic programs during his time as dean at the Jannen School of Arts and Sciences.
Shannon came to Trine in 2007 with extensive experience in foreign language and international education, having previously served as dean and professor at the Defense Language Institute Foreign Language Center in California and chair and director of the American University of Sharjah in the United Arab Emirates. His career also includes serving with the U.S. Army in West Germany and as a Peace Corps volunteer teaching special education in Tunisia.
He holds a Ph.D. in Foreign and Second Language from The Ohio State University, a Master of Arts in applied linguistics from Southern Illinois University at Carbondale and a Bachelor of Arts in psychology from the State University of New York at Plattsburgh.