Portfolio manager visits Putra class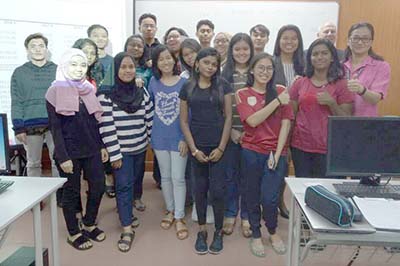 MELAKA, Malaysia — A local financial portfolio manager spoke to two classes at Putra International College, an international partner of Trine University.
Irene Eng spoke to FIN 413 - Corporate Finance and FIN 473 - Financial Modeling classes taught by Michael J. Martin, instructor at Trine's Melaka, Malaysia, education center, on Jan. 17.
"Over time we are beginning to meet local professionals who are taking an interest in the Trine global partnership with Putra and want to be a resource for students," said Martin.
Martin said there was a high level of interaction between the students and Eng, and the event was well-received.
"I was impressed with the level of understanding students conveyed in their questions about what has been happening in global financial markets and the state of Malaysia's economy," he said.
An additional event with an accounting professional or a chief financial officer for a company doing business in Malaysia is also planned this term.