Engineering alumna speaks at Putra during Trine Appreciation Luncheon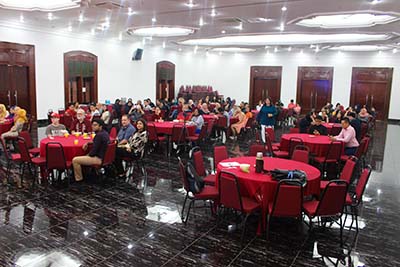 MELAKA, Malaysia — On Wednesday, April 4, Rupa Shanmugam, 1995 Bachelor of Science graduate in electrical engineering from Tri-State University, now Trine University, addressed Trine students at Putra International College, Melaka, Malaysia. The students also were recognized at the second annual Trine Appreciation Luncheon hosted by Dr. Mark Roselli and Michael Martin, Trine faculty currently teaching on the Putra campus.
Shanmugam was greeted by warm applause when she entered the ballroom and later introduced to the students, faculty and administration attending. She shared that she valued her experience attending college in Angola and Trine's campus and found her interaction with professors among her fondest memories.
During her talk she encouraged students to be true to their values and goals, and understand that anything is possible. She had special words of encouragement for female students, remarking she had pioneered new territory for an international woman studying engineering. She considered her education at Trine important in preparing her for her current role as President and COO of SoPark, a manufacturing company in Buffalo, New York.
Joining Shanmugam during her visit was her husband Ross, a Trine civil engineering graduate, and her nephew.