'6 Short Plays' draws 180
The Trine University Drama Club's production of '6 Short Plays' drew 180 patrons over its three-night run. The collection of plays was performed April 5-7 in Wells Theater.
Top photo: From left, Travis Riddle, Jacob McNeal, Alex Kromkowski and Ivy Riddle perform in "Birth of the Theater."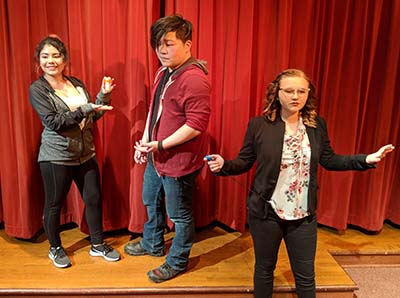 From left, Mariah Rodriguez, Cryus Colyer and Hannah Verkersen in "Playwriting 101: The Rooftop Lesson."
Jenna Wilson and Cyrus Colyer in "Subtext of Texting."