BSBA in Accounting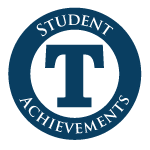 Full and comprehensive preparation for a high paying career in accounting. A Bachelor of Science in Business Administration with a major in Accounting at Trine University will prepare you for the CMA or CPA exam through coursework and review courses. Get more value out of your four years: our 4+1 degree path, 150 credit hour program, designed to be completed in 5 years, prepares and qualifies students to sit for the CPA exam while acquiring an MBA degree with a concentration in accounting.
Accounting Alumni Update - Brett Powers '13
See more Ketner School of Business videos
The Experience
Our expert faculty, with both US and international corporate experience, ensure that Trine graduates are prepared for a successful career in Accounting.
Today's professional accountant must possess excellent communication and analytical skills in addition to superior technical ability.
Our curriculum provides students with in-depth technical accounting tools employers require, and exposure to the strategic business courses financial leaders need.
Our program is intense and focused on getting you the best education in modern accounting methods and practices with the goal of sitting for the CMA or CPA exam.
Students will work with accounting practitioners on real-world projects, preparing themselves for career success in their chosen area of focus.
Points of Pride
Students utilize Trine's extensive career planning, professional development resources and internship experiences to secure accounting positions after graduation. Students are prepared for successful careers in public accounting, corporate accounting, tax and auditing.
Acquire the 150 credit hours required to sit for the CPA exam in as little as 4 years with our unique 3+1 program
Develop the knowledge, analytical and communication skills required for a successful career in accounting and finance
Our faculty, mentors and career advisors help students understand the diverse career opportunities available to accounting majors
Our modular curriculum allows students to customize their degree plan to fit a wide variety of unique personal and career interests
Students network with targeted industry leaders through classroom projects and internships
Students develop leadership skills through coursework and our unique Fellows program that will accelerate their careers long after graduation
Accounting Club
The Accounting Club's mission is to provide Accounting majors with an opportunity to practice the applied aspects of their field. The club will provide majors with resume building opportunities. Club members will also have opportunities to attend presentation/forums related to their field.