Gov. Pence awards Trines top honor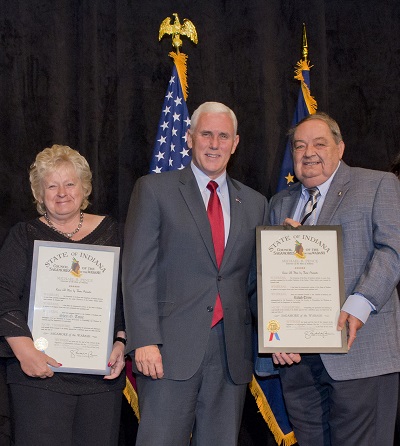 OCT. 28 – An Angola businesswoman and philanthropist was surprised this afternoon when she was presented with the Sagamore of the Wabash award from Gov. Mike Pence.
Sheri G. Trine learned of the honor when Pence gave the Sagamore to her and her husband. It was announced in advance that her husband, Ralph D. Trine, was being honored with a Sagamore.
"The Trine family has lived the American dream," Pence said of their successful operation of Vestil Manufacturing Co. in Angola. Their success resonates because they help others, he said.
The Sagamore, the highest civil honor given in Indiana, recognizes the Trines' character, generosity and integrity, he said. The award, created in 1945 during the term of former Gov. Ralph Gates, recognizes recipients for their dedication and service to the state, their communities and counties.
The Trines are the benefactors for whom Trine University is named. They have supported numerous initiatives on campus, including the T. Furth Center for Performing Arts, Books and Beyond Scholarships and the annual scholarship gala. Recently, they secured and donated to Trine two buildings valued at $600,000.
They also donated 200 acres for the Trine State Recreation Area, which is located near Pokagon State Park.
Ralph Trine is an alum and has served as a university trustee since 1990. Sheri Trine has been a trustee since 2007. Both hold honorary doctorates from Trine. They own Vestil Manufacturing Co. in Angola where he is chair and chief executive officer and she is director of human resources and accounting. Vestil is a third-generation family owned and operated manufacturer of industrial material handling equipment. It was founded in Albion, Mich., in 1958 and moved to Angola in 1982. The company has sales of $100 million, seven plants with 1 million square feet of manufacturing and warehouse space, and employs 410.