Trine honors alum with Pillar of Success, one of its top awards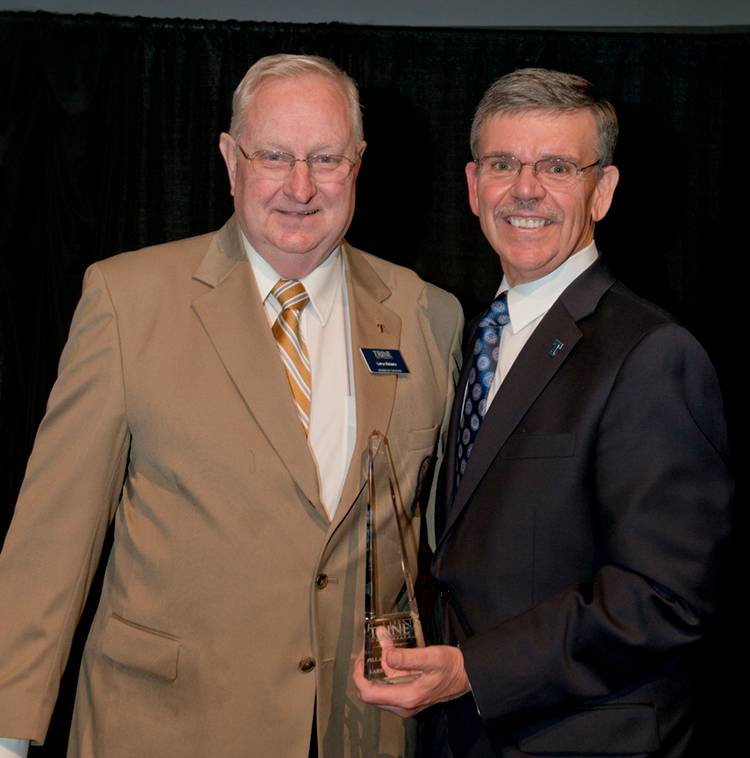 OCT. 12 – An alumnus, trustee and longtime supporter of Trine University was honored during homecoming weekend with one of the school's most prestigious awards.
Larry Reiners, of Tulsa, Okla., was surprised with the Pillar of Success award that recognizes individuals for their achievements and accomplishments, leadership, service, philanthropy, commitment to their community and profession, and to Trine. A video featuring images of Reiners during his life was shown to guests at the Touchstone and Homecoming Celebration Dinner.
"His generosity – and that of his wife -- has been a positive influence and impacted the lives of many, including students, alumni, faculty, and staff here at Trine University," said Earl D. Brooks II, Ph.D., Trine president.
Reiners, a university trustee and 1965 civil engineering graduate, and his wife, Judy, were also recognized Friday morning during the dedication of the Larry and Judy Reiners Residence Hall.
In 2009 he was elected to the Trine University Board of Trustees and currently chairs the Academic Affairs and Student Services Board Committee and serves on the Executive Committee.
In May 2009, Trine dedicated the Reiners Department of Civil and Environmental Engineering in honor of their commitment and support and their $1.5 million gift for the department.
For more than 45 years, they have advocated for the university and higher education. Supporters for more than 20 years, they donated to the Fawick Hall master plan and participated in both the New Horizons Vision for the Future and the current Invest in Excellence capital campaigns.
He spent 38 years in engineering design, project management, construction management, manufacturing management and corporate management with firms active in the chemical, petrochemical, refining, gas processing and other related processing industries. In 1986, as one of two principle shareholders owning the majority of capital stock he participated in the leveraged buy-out of the Pro-Quip Corp. from its parent Elcor Corp. He served as a member of the board of directors for the firm until it was sold in December 1996. On May 1, 1997, he retired from active employment at Pro-Quip.
In fall 1997, he started consulting to Williams Companies on various Venezuelan projects and more recently to Linde Process Plants. He also still works full time for ISTI Plant Services.