Innovation One takes first product to market
OCT. 28 – Trine's Innovation One (i1), an incubator for creativity, invention and design that improves education through experiential learning and fosters economic development by supporting new and existing business, recently shipped its first product, thanks to a partnership with a New York company.
Nick Santino, a 1965 grad of Tri-State, now Trine, and owner of Swimming Reaction Lights, LLC, based in Newark, N.Y., first approached i1 last year seeking assistance with the design and engineering of a new product to better serve the needs of the competitive swimming industry, especially the deaf or hard of hearing swimmer.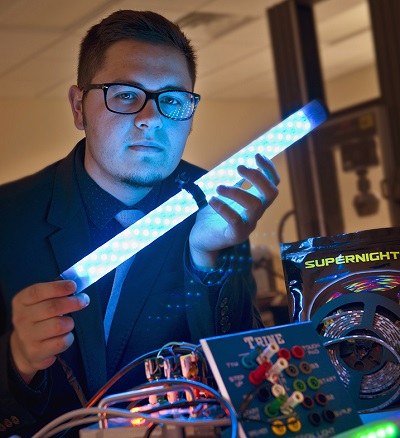 The lights are used as a starting device to signal swimmers during competition, enabling them to focus on a light mounted beneath their stand instead of straining to listen for a buzzer. Trine student Nathaniel Scroggins, an i1 intern, refined the original prototype and re-engineered the lights to improve the aesthetics and functionality of the product while lowering production costs.
As a result of the new partnership, Swimming Reaction Lights, LLC, moved its production from Newark, N.Y., to Trine's main campus and Scroggins, a Hanover senior majoring in design engineering technology, has assumed responsibility for operating the startup business.
"Scroggins and other students are involved in all aspects of production, including engineering, manufacturing, packaging and shipping. We're proud to partner with SRL to offer this type of support and we've already begun designing a new prototype adapting the original design for use by other sports," said Jason Blume, executive director of i1.
"This is yet another example of the success of i1 and in keeping with our original desire to provide real world experiences for our students while growing the local economy," he added.