Tree dedicated in memory of John McBride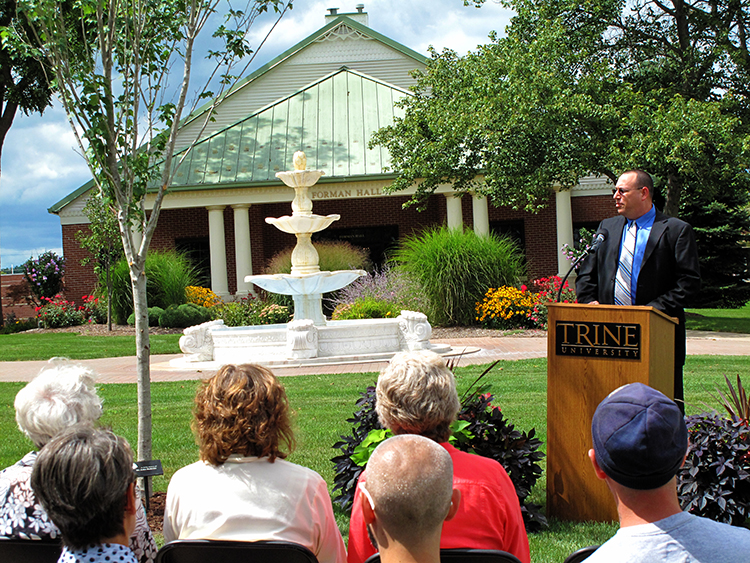 Family members and friends of the late John McBride remembered the Trine historian during a tree dedication ceremony Thursday afternoon.
Travis Wilhelm, director of Trine's Campus Christian House, and Darin Hendry, minister at Fremont United Methodist Church, led the service on the lawn in front of Sponsel Administration Center. Nearly 100 people attended the special event.
"John made others feel important," Wilhelm said, adding that he was always smiling.
Pastor Hendrey echoed the sentiment. "Some of you would have known him as Mr. Tri-State, he was passionate about Trine," he said. "Anytime I would see him he had a smile on his face ... people were excited to see him."
"Most of us got our mornings started with John," said Earl D. Brooks II, Ph.D., Trine president. "He was one busy bee" with his energy and smile, going from office to office to greet faculty and staff, Brooks said.
"We know he misses this place as much as he misses us," his daughter Wendy Zent said. "I know he's up there every morning looking down and saying 'gee, I wish could be there."
John had served as director of the Office of Alumni & Development and will always be remembered for his work as Trine's historian He was a true champion and a long-time ambassador for Tri-State and Trine University. He was also a veteran who served his country and a former mayor of Angola who served his community.
John retired from Trine in 2010 after 27 years of service. While at Trine, he also served as adviser for Sigma Phi Epsilon fraternity. He was awarded the Pillar of Success Award in 1997 for his commitment, loyalty and dedication. He graduated from Tri-State College in 1948 with a Bachelor of Science degree in business administration and was presented an honorary doctorate in business in 2005.
John passed away on Veterans Day, Nov. 11, 2014, fitting for a man of service.