Trine University family celebrates three generations of university involvement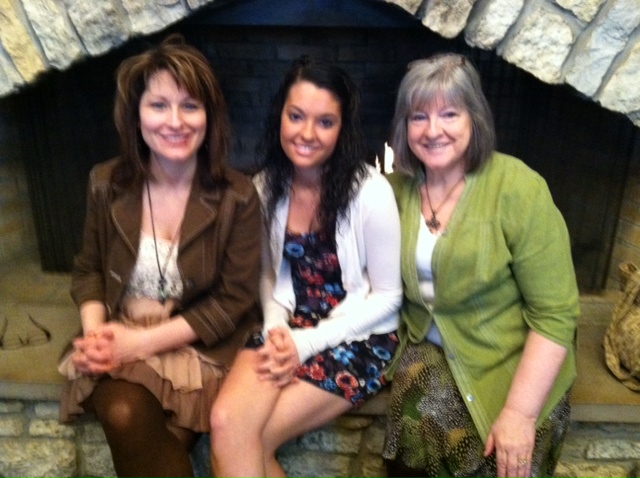 By Catherine E. Porter
marketing and communication '16
Three generations of women will come full circle for one Trine University family this month.
From graduation to employment, Nita Kissick, Fort Wayne; Cherie Ditto and Shelby Ditto, Roanoke, Ind., have each played a part in the Trine community during a span of 15 years.
Shelby Ditto, a third-generation Trine student, will be among nearly 400 candidates for graduation who are participating in commencement at 10 a.m. Saturday, May 9. There are more than 500 graduation candidates. Television personality and icon Regis Philbin is scheduled to deliver the commencement address. The event will take place at Zollner Athletic Stadium; in the event of inclement weather, it will be in Keith E. Busse/Steel Dynamics, Inc. Athletic and Recreation Center.
"The blessings of the benefits from this institution, for all three generations, have been immense," said Cherie Ditto, director of enrollment services for the School of Professional Studies (SPS). "We love Trine University and have been affiliated with this institution since 2000 when I started my undergraduate degree."
After transferring to then Tri-State, Ditto graduated from the university in 2003 with a Bachelor of Science in business administration (BSBA) with a major in accounting. Before finishing her final week of classes, the campus director of the Fort Wayne campus asked Ditto if she knew anyone who would be interested in the newly open admissions representative position.
"My mother and stepfather wanted to move to Fort Wayne at the time, so I told the director I thought I had the perfect candidate. As I was completing my degree with Trine, my mother was applying for a position with Trine's School of Professional Studies that would prove to be a blessing to herself, her daughter and her granddaughter," Ditto said.
Ditto's mother, Nita Kissick, was hired in June 2003 and immediately became a force for change at the university. During her five years of employment, campus enrollment swelled from 75 students to 200 students. Because of this enrollment growth, the Fort Wayne campus had to move to its present location in 2005.
Kissick didn't stop there. In 2008 she graduated with honors from Tri-State University with her BSBA in management and was named the SPS Student of the Year. That year, Kissick was also recruited for a position at another university.
"At the time, I was running my own business and looking for full-time employment, so she called to see if I'd be interested in applying for her role with the university. She didn't want to leave without offering a candidate to the position," Ditto said of her mother.
By June 2008, Ditto had begun her own career at Trine University. "The circle was complete," she said. "I had referred my mother and in turn she referred me for the same position."
Ditto completed her Master of Science in leadership with a concentration in strategic foresight and entrepreneurship at Trine in 2012. Following in her mother's footsteps once again, she was named the SPS Student of the Year.
Generations of influence continue as Ditto's daughter Shelby graduates from Trine magna cum laude on May 9 with a BSBA in management. Shelby is the first in their family to attend Trine as a traditional student.
"The idea of graduating from the same university as both my mom and my grandma seemed really cool. Being able to say that I am the third generation to graduate from Trine with a BSBA is pretty unique. I'm excited to receive my diploma and share that tie with my mom and grandma," she said.
Shelby joined Theta Phi Alpha sorority during her sophomore year. In her junior year she became the first business student to take a co-operative work study assignment. After spending six months with Parker-Hannifin in Syracuse, Ind., Shelby returned to Trine and was voted president of her sorority in 2014. Six months before graduation, Shelby was offered a full-time position as a human resources representative with Parker-Hannifin.
"Words cannot express how proud I am of Shelby and the young woman she has become. The past four years have proven to be an amazing time of transition for her. She entered as a shy freshman, who had basically been a wallflower in high school, and blossomed into a strong, confident, professional woman," Ditto said.
Shelby agrees with her mother. "Trine has given me a lot of opportunities to get involved in different organizations and take on leadership roles. Each of these organizations has helped me to open up and come out of my shell. I have had the pleasure of joining a sorority, a business honor society and a Greek honors society during my time at Trine. I never imagined that I would one day take on the role as president of my sorority either, but I did and it helped me grow in my confidence, ability as a leader and as a person. Trine has given me opportunities to grow as a person and as a student," she said.
Ditto said she is grateful to Trine University and Terry Johnson, assistant director of Career Services, for the opportunities they have offered Shelby and "the blessings of a good job at the end of her four years with this institution."
"It has been an honor and privilege to work for and attend Trine University these past 15 years. The impact it has made on my life, my mother's life and now our daughter's life will reach far beyond the walls of this institution," Ditto said. "I believe I can honestly say on behalf of both my mother and my daughter, 'We are proud Trine University Alumni'."