Standing out: MSL propels border patrol supervisor to special assignment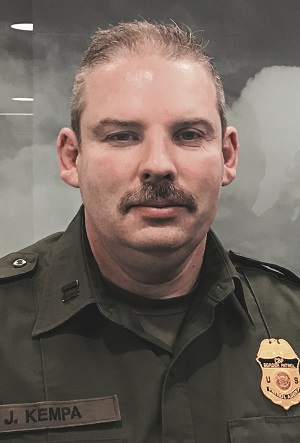 HARPERS FERRY, W.Va. — When Joe Kempa was looking for an affordable graduate degree from a quality program, he said Trine University stuck out.
In turn, the Master of Science in Leadership degree he completed in June helped the 23-year border patrol agent stand out from the pack and earn an 11-month special assignment as a leadership development instructor at the Global Borders College for U.S. Customs and Border Protection (CBP).
"The feedback from the people I interviewed with said the educational piece put me over the top," he noted.
Only two instructor positions were offered to the CBP's 65,000 agents nationwide.
"There were a tremendous amount of applicants," Kempa said. "I was lucky enough to be one of two chosen. These opportunities are few and far between."
In this assignment, which began in September, Kempa instructs more than 800 newly promoted supervisors on leadership concepts and their practical application. The curriculum ranges from resiliency strategies, leadership dynamics and the purpose of a leader to many of the technical aspects of supervisory positions. Kempa said the supervisors he instructs are all within a year — and most are about 90 days — into their promotion.
"Taking this assignment is a welcome change from shift work and the stress of first-line law enforcement," Kempa said. "It is a chance to transfer 23 years of hard knocks and the lessons learned to our future leaders."
Opened in 2011, the Global Borders College is located at the CBP's Advanced Training Center in Harpers Ferry, West Virginia. The college was designed to provide training and leadership education to enhance the leadership culture for Customs and Border Protection.
Once the special assignment is complete, Kempa, a resident of Hillsdale, Michigan, will return to his duties as supervisory border patrol agent in Detroit, a position he has held since 1998. He joined CBP in 1994.
As supervisory border patrol agent, Kempa oversees daily operations for uniformed border patrol agents in the Detroit area. The border patrol's primary mission, Kempa said, is to protect the United States by reducing the likelihood that dangerous people and capabilities come into the nation between ports of entry. CBP also assists federal, state and local law enforcement as needed.
Kempa said he sought out a graduate degree as he considered his options once he becomes eligible for retirement from CBP in a few years.
"I had a big hole in my resume in that I had no experience as an instructor," he said.
He enjoyed success in his program at Trine, earning the Ed & Ginger Leonard Family Future Leader Award at the graduate hooding ceremony in June.
Once he reaches retirement, he hopes to transition into more teaching opportunities.
"This is my niche: the transfer of knowledge," he said.