66 companies take part in Career and Internship Fair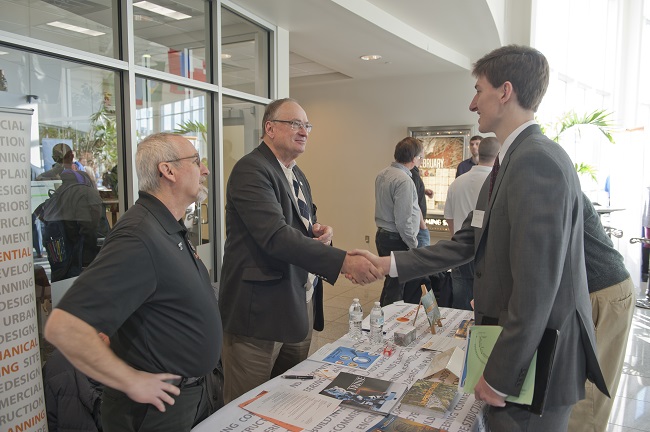 Trine University students had an opportunity to meet representatives from 66 companies, including 16 companies participating for the first time, during the ninth annual Career and Internship Fair on Thursday, Feb. 2. Companies were seeking candidates from various majors for internships, co-operative work study and full-time employment.
Terry Johnson, employment specialist in Trine's Employment Resource Center, said about 300 students attended the event, and a survey of the recruiters indicated hundreds of interviews were planned.
Before the event, Trine's Employment Resource Center (ERC) specialists worked with students to help them prepare.
Several companies that participated employ Tri-State or Trine alumni and some sent alumni to meet and recruit during the event. Gold sponsors for the fair were LHP Engineering Solutions, Ariel, Parker, Martinrea International, North Star Blue Scope Steel, Gentex, MedPro, and All-Phase Electric | CED. CrossRoad Engineers was a silver sponsor, and Hi-Tech Electric, Troyer Group, CE Electronics, Chase Brass, Steel Dynamics and Shambaugh & Son were bronze sponsors.
Employers were very positive in their feedback for the event.
"These events are well-run and organized," said John Leszczynski, senior vice president at Troyer Group. "Everyone goes out of their way to make us a success and connect us to the students."