Student's internship involves everything from kids to gardening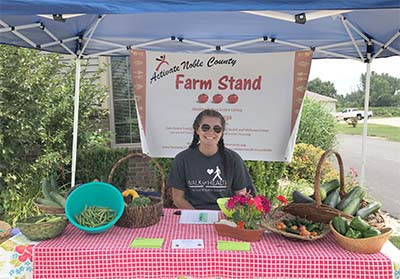 KENDALLVILLE — When Codee Colby started an internship related to her exercise science major, she never thought she would wind up tending a garden.
Colby, a Trine University senior from Michigan Center, Michigan, has served as an intern at the Parkview Noble Center for Health Living in Kendallville since February.
Working for Kristen Ruble, community health improvement manager, Colby assists with front desk duties and, among other duties, directs the Center's weekly walking club.
"Everyone is allowed to take part in the walking club, and the more, the better!" she said.
After Colby began the internship at the Center, Ruble asked if she also would like to intern for Activate Noble County (ANC), a countywide project that seeks to improve health and safety across Noble County. ANC partners with the Center as well as the Cole Center Family YMCA in Kendallville, Purdue Extension – Noble County, New Hope Clubhouse and other area organizations.
One of the main projects Colby has worked on for ANC has been its farm stands, held each Wednesday at the Strong Tower Worship Center in Ligonier, every first and third Wednesday at the Cole YMCA and every second and fourth Thursday at the Center. As part of her work, she tends 12 separate garden beds behind the Center.
"I never gardened in my life before this internship," she said. "It's been so exciting and a great learning experience. It sounds funny but I like to call the gardens my baby: I care for them as much as possible and get worried about them when I won't be at work for a while."
She raises about 15 different produce items that are sold at the farm stands for $1 per pound.
"It's very cheap and very helpful for the community!" she said. "It's definitely one of my proudest accomplishments."
Her other duties include managing ANC's website, activatenoblecounty.com, and creating and designing displays and activities for various events that ANC sponsors or participates in. For KidCity, held Aug. 5 at the Noble County Community Fairgrounds, she designed an obstacle course for ANC's booth that hundreds of kids completed.
"It really touched my heart to see the kids wanting to constantly go through the course because my job is to promote active living and that's exactly what they were doing," she said. "It's so important to get the kids moving at young ages and I will do everything in my power to educate everyone about that."
Colby plans to graduate from Trine in May and pursue a graduate degree in occupational therapy. She said even though her internship doesn't directly tie into occupational therapy, she has appreciated the exposure it has given her to the wide variety of opportunities in the health field.
"It has definitely given me the chance to work with all age groups and to understand their thought process on a healthy lifestyle," she said.
Photos: Top, Codee Colby tends the garden beds behind the Parkview Noble Center for Healthy Living. Bottom, Colby manages the farm stand for Activate Noble County.