Ellspermann shares leadership tips at Trine Distinguished Speaker Series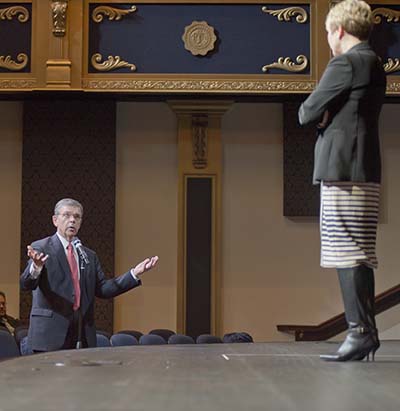 Praising the cooperation that exists between her institution and Trine University, Ivy Tech Community College President Sue Ellspermann, Ph.D., shared leadership advice with students and the community during the third fall installment of Trine University's Distinguished Speaker Series.
Speaking on the topic of "Leadership in the New Millennium" on Monday, Oct. 30, in Ryan Concert Hall of T. Furth Center for Performing Arts, the former lieutenant governor noted that, "Ivy Tech and this institution have a great tradition."
She said her most recent cabinet addition is a Trine alumnus, 2001 business administration graduate Matt Hawkins, hired in September as the system's chief financial officer.
"You won't know until you leave here just what a high-quality education you've received and how it will prepare you for the future ahead," she told Trine students.
Ellspermann began by sharing the leadership qualities she learned working in her father's jewelry store while growing up in Ferdinand, Indiana. She said her father taught her to treat every customer with respect and empowered her and her sisters to perform tasks like bookkeeping, tracking hours worked and taking out their own pay, and operating the store while their parents were gone.
"A good leader has impeccable integrity, values all customers, constituents and stakeholders and is a role model to others," she said.
She encountered a different type of leadership environment while working in an industrial engineering cooperative education program from 1979 to 1982 with General Motors in Flint, Michigan.
"General Motors had some of the smartest well-trained professionals in the world. However, they were not empowered," she said. "Everywhere there were reasons why you couldn't make change. There were numerous disincentives to take initiative.
"What I learned from GM is that leaders must be in tune with their external environment. Things were changing and you have to be able to change with the times around you."
Later, at Frito-Lay, she learned what she called "intrepreneurialism" — being entrepreneurial, inside the organization. As an example, she talked about the company's successful effort to trim $500 million in production costs over five years through process improvements, in order to offset inflation.
"It wasn't just the executive office. It was engaging all of our employees in finding change: at the shop floor level, at the engineering level, at the sales level, at the warehouse level and every level in between," she said. "The more engaged people are in change at all levels, particularly those at the front lines, the more morale improves."
She also said the manager of the company's oldest plant in Salsbury, North Carolina, told her a secret of success is to always say yes.
"Even if the idea they're proposing is something I don't think will possibly work, I say yes," she quoted the manager as saying, "because first, they typically are right, not me. They own the job and they know it better than I do, so I shouldn't second-guess them. And secondly, if it fails, we will learn a lot and will never make that mistake again."
Similarly, she said, her cabinet at Ivy Tech knows its job is to say yes. She cited the recent decision to launch a baseball team at Ivy Tech's northeast campus as an example.
"Leadership is bi-directional," she said. "My job is to empower the thousands of talented colleagues we have at Ivy Tech to better serve our students, our employers and the community."
She credited Scott Davison, CEO of holding company One America, with the concept of "empowerment with accountability," something she said Ivy Tech is incorporating into its strategic plan.
"We want to empower, but we have to be working toward key results," she said.
She closed her prepared remarks by saying, "Leadership in the new millennium will require even more integrity, servant leadership, empowerment with accountability, shared vision and the development of a culture of innovation, continuous improvement, diversity and inclusion. Leaders will need to remain adaptable and students of change."
Responding to a question from the audience, Ellspermann, whose degrees are in industrial engineering, stressed the importance of drawing more women into STEM fields.
"STEM opens a lot of doors. What is important is that we expose girls early and often," she said. "It is making sure that girls have those opportunities."
Another question, posed by Earl D. Brooks II, Ph.D., Trine University president, asked how higher education institutions in Indiana can best meet the needs of business and industry.
"We have to work together," Ellspermann responded. "We can't duplicate things across multiple organizations. We should try to be the leanest and strongest, making sure students get credit for every credit they earn and can work seamlessly across our system, because life happens and they may start with one of us and end with another one of us."
She said the state also needs high school career counselors "who are very much in line with what the real needs are out there and how to best encourage all of our students."
Asked what has driven her to success in her career, she concluded by saying, "The older you get, the more it's about making things better for others for the world around. Having had four years to travel the state of Indiana and learning to love every one of the 92 counties and seeing what's special about every community, it really drives me to say, 'Gosh, we have to do better. We have to serve all Hoosiers. We have to give that possibility for prosperity to every Hoosier.' And we can do it."
Photos: Top, Sue Ellspermann, Ph.D., president of Ivy Tech Community College and former lieutenant governor of the state of Indiana, speaks at Trine University's Distinguished Speaker Series. Bottom, Earl D. Brooks II, Ph.D., Trine University president, asks Ellspermann what higher education institutions can do to best meet the needs of business and industry in Indiana. (Photos by Dean Orewiler)