Student aids pediatric brain cancer research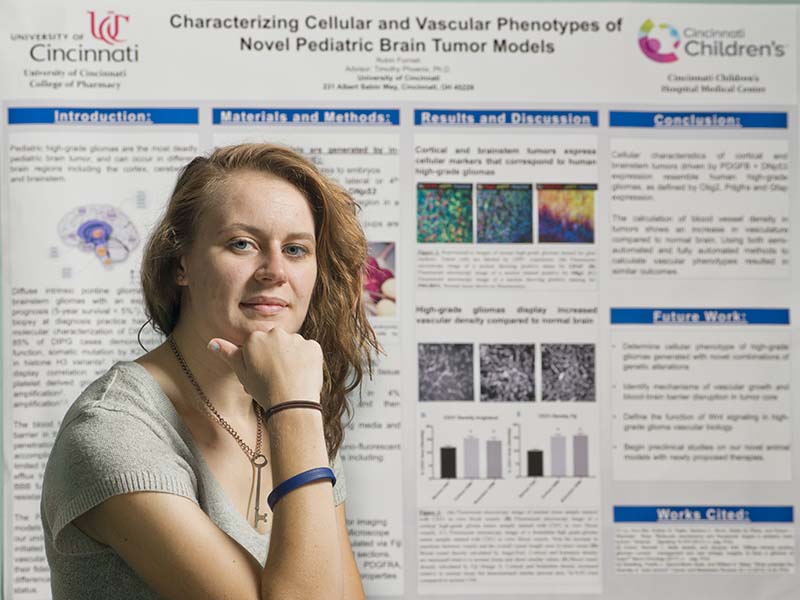 A Trine University biomedical engineering major took part in a research project this summer that may one day help the fight against brain cancer in children.
Robin Furnish, a senior from Vevay, Indiana, served in a 10-week Research Experience for Undergraduates (REU) at the Phoenix lab in the University of Cincinnati's James L. Winkle College of Pharmacy and Cincinnati Children's Hospital Medical Center.
Directed by Timothy Phoenix, Ph.D., the lab researches the diversity of brain tumors – now the leading cause of cancer-related deaths in children – and seeks to develop new tools and therapies to combat the disease.
Furnish said she found the REU through an online search and was drawn by the university and hospital's reputation, as well as the opportunities available.
In the lab, she sectioned and stained brain samples from lab animals that had DNA inserted from pediatric high grade glioma (HGG), the deadliest pediatric brain tumor. These samples were compared to healthy tissue to determine the differences on a cellular level.
"The end goal of the lab's work is to develop accurate animal models for pre-clinical trials and to further our knowledge of disease pathology," she said.
At the conclusion of the REU, she presented a poster on her project to two judges, with the public and other REU participants in attendance.
"My poster covered background information on my project along with the methods and results we obtained," she said. "I enjoyed the opportunity to present information over my project and share the knowledge I acquired through the program!"
"I believe my summer undergraduate research experience helped prepare me for my senior design project this year," she said. "I feel I have a better understanding of the planning and execution of a research project."
She said her work at the lab has inspired her to continue her education into pharmaceutical development or neuroscience.
"I hope to obtain my doctoral degree and complete a postdoctoral study to qualify for either a senior scientist position or a professorship running an academic research lab," she said. "Further, I hope to focus my studies and career on treatments for neurological disease or cancer."