As princess, King makes wishes come true for kids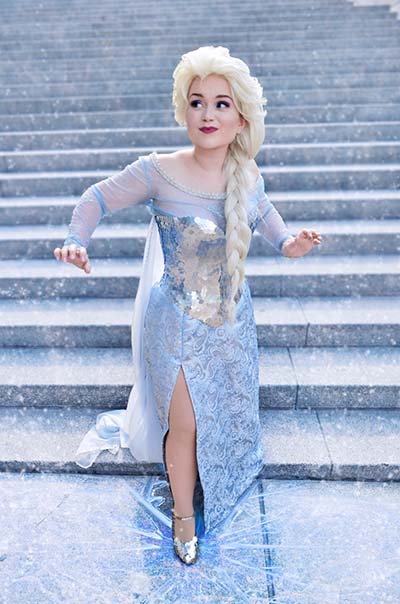 Although the characters she plays don't include a fairy godmother, Bonnie (Alexander) King is still able to make wishes come true for sick children.
King, a December 2016 civil engineering graduate from Trine University, and two friends perform as princesses, superheroes and other characters at charitable events and visit children in hospitals through their nonprofit company, Courage & Kindness Co.
She balances her time as a princess with marriage and work as a civil engineer at A&F Engineering in Indianapolis.
King began portraying princesses about three years ago for a company that provided characters for children's parties, then left to begin volunteering at various events.
"I was able to do quite a bit on my own like visiting Riley Children's Hospital, Peyton Manning Children's Hospital, the Ronald McDonald House, Wheeler Mission and Down Syndrome Indiana, as well as places like libraries and community events," she said. "It was hard to do much while I was still at Trine and planning my wedding, but really picked up a lot since I graduated. "
A friend from the party company, Sam Pendleton, joined her in her volunteer work, and they learned of another woman in the area, Rosie Mannin, doing the same sort of thing. They first collaborated on the Fishers (Indiana) Freedom Fest parade.
"After this I started visiting a little girl in the hospital named Ava who loves Rapunzel and I had the idea to buy some mini replica tiaras for kids like her," King said. "I raised the money for a bulk order of them within the week."
She decided to see if A&F might sponsor her in exchange for advertising in her materials, and her boss told her it would be easier if she incorporated as a 501c3 so she wouldn't be taxed on donations as earnings. Courage & Kindness officially formed Aug. 11.
"A lot of people have expressed interest in helping us out," she said. "So far I've bought almost all of the costumes personally, which is quite an expense, but I'm lucky to be able to afford it with my job."
King said all appearances booked through the company are free of charge.
"We're almost at enough to cover the application for 501c3 status, and after that I'm hoping to get a lot more in donations since we'll be a real charity. We're also looking for corporate sponsors," she said. "We've only done two events since we incorporated — a birthday party for a local little girl who just finished chemotherapy and a visit to the Ronald McDonald House — but I have a couple events planned already including the Down Syndrome Indiana Buddy Walk and the Mending Little Hearts Trunk or Treat."
For events, the performers dress up as the characters requested, meet children and sometimes sing, dance and read stories.
"We take character integrity very seriously and study characters very closely to set us apart from girls who just dress up in Halloween costumes," King said. "It's a lot of hard work and a lot of money, not to mention having to go through with events and acting perfectly happy no matter what's happening in your life or how you're feeling. It's not something that can be brushed aside or not taken seriously."
She has many favorite memories of performing as a princess, including the visits with Ava that started the process of forming a company.
"The first time I visited her she had a vent in and couldn't talk, but I could see her light up when I said that I knew Rapunzel and that I would tell her to visit. Then a couple weeks later I came as Rapunzel with a tiara for her and she was so happy," she said. "I'll never forget her signing 'thank you' to me. She's scheduled to go home next Tuesday and I'm so happy for her!"
"A couple weeks ago I found out about a princess birthday party for a little girl who just finished chemo and the three of us dropped everything to go to it," she said. "It was amazing and the little girl was so energetic! We gave her a rose, a necklace and a coloring book because she didn't have enough hair to hold the tiara on."
"I'm so blessed to be able to bring happiness to kids, especially kids who have too little happiness in their lives!"
To learn more about Courage & Kindness Co., visit courageandkindnessco.com.