Trine provides ice skating class for RISE clients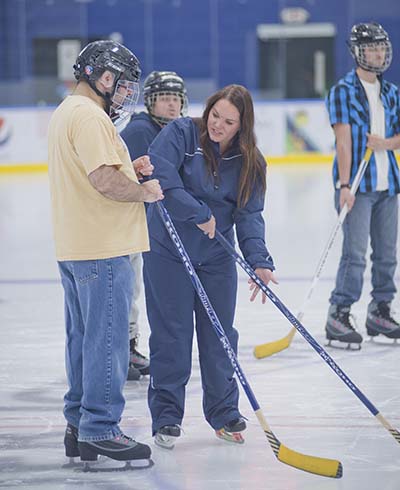 Trine University has entered into a partnership with RISE Inc. in Angola to provide therapeutic ice skating classes for the organization's clients.
Eight clients from RISE, a nonprofit organization that works to promote the welfare of and foster development of community-based programs for adults with developmental, physical or other challenges, are participating in the twice-weekly program at the new Thunder Ice Arena.
Discussions for the program, part of the Learn to Skate USA skating curriculum, began in the spring between university and RISE officials. Over the summer Mickinna Lothamer, nurse at RISE, came with her daughter to a floor hockey event on the Trine campus and met Amy Alt, the university's youth hockey program director, and the conversation regarding a partnership continued.
"We thought, 'Wouldn't that be fun for our clients to get a chance to learn how to skate?' " said Becky Halprin, administrative assistant at RISE. "We try to keep our clients as active as possible. At our facility we do a dance class and an exercise class, and we thought this would be a great way to incorporate something new."
The eight-week program is offered as an exercise class option during the clients' regular work day, with Halprin and Lothamer each signing out four clients for the class.
"We're making sure the clients have the foundation to balance on the ice," said Alt. "A lot of it is learning to trust themselves; that they have the mental and physical strength to skate. Once they feel okay to leave the boards you can see a sense of freedom, and they love skating to the music."
The RISE staff said that besides providing physical exercise, the skating activities help clients build confidence and learn teamwork.
"They help each other by lacing each other's skates up and encouraging each other to stay on the ice longer," Lothamer said.
"It's very rewarding," Alt said. "The clients let you know by their facial expressions and verbally how much they're enjoying it. More than that, it's rewarding to see their growth."
"They're very excited when they get home," Lothamer said. "They're telling everybody at the workshop what they did and what they accomplished, so it's given them a sense of pride."
The classes will be offered to RISE clients year-round. Future sessions of the program will incorporate elements of hockey and sled hockey.
"It's a lot of fun and I'm looking forward to seeing it grow," said Alt.
Photos: Top, Ralph, a client at RISE Inc. in Angola, gives two thumbs up as he makes his way across the ice in the Thunder Ice Arena during a therapeutic ice skating class. Bottom, Amy Alt, youth hockey program director for Trine University, shows Greg, a client at RISE Inc. in Angola, the proper way to hold a hockey stick during the class. (Photos by Dean Orewiler)