Criminal justice students win awards at national competition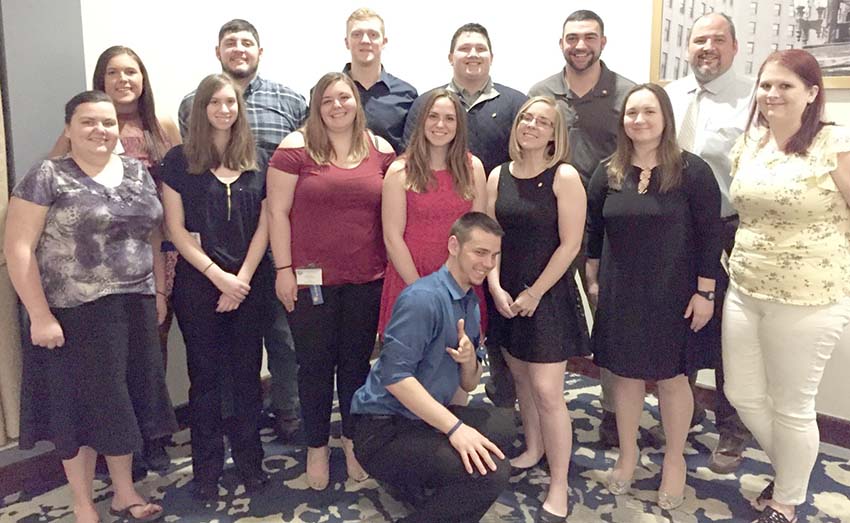 INDEPENDENCE, Ohio – Students from Trine University's Tau Alpha Omicron (TAO) chapter of the American Criminal Justice Association (ACJA) won two awards at the ACJA's national conference March 18-23.
Trine students and faculty member/advisor Cisco Ortiz attended the 2018 American Criminal Justice Association (ACJA) National Conference, hosted by the Lambda Alpha Epsilon national chapter of ACJA in Independence, Ohio. They competed against dozens of other chapters from colleges from throughout the nation in four categories: written examinations, handgun competition, crime scene investigation and physical agility.
In written examinations, MaKenna Knuth, a sophomore criminal justice major from Lake Villa, Illinois, won second place in the lower division for the criminal law exam.
In crime scene investigation, the three-member team of Kaitlyn Kistel, a senior management student from Coldwater, Michigan, Elizabeth Gillette, a junior criminal justice major from Scottville, Michigan, and Ashley Weber, a senior criminal justice student from Bluffton, Indiana, placed third in the upper division. The team of Terek Curtis, a freshman criminal justice major from Edwardsburg, Michigan, Zoee Stephan, a sophomore psychology major from Tippecanoe, Indiana, and Griffin Watson, a freshman criminal justice major from Sterling Heights, Michigan, received honorable mention recognition.
Trine's members were part of the hosting region and assisted in the planning and coordination of events of the national conference.
"Once again, we were able to have some of our newer members join us to compete in the events. We had an outstanding effort by our students in the competitions and in the coordination of the events," said Ortiz, a 1999 Trine criminal justice graduate who teaches in Trine's Department of Criminal Justice, Psychology and Social Sciences. "We had a student place nationally in the examination competition, a CSI team place nationally and another CSI team receive honorable mention recognition. It was a great experience for them to compete against other schools from across the nation. The student members pulled together recently to raise funds in order to assist with the costs of the events. We are grateful to those members of Trine University student body, staff and faculty who provided the financial support at our fundraiser."
Ortiz competed in the professional division while the students participated in the lower and upper divisions based on their year of education.
Cutline: Immediate front: Joseph Manganiello, chapter vice president; front, from left, Elizabeth Gillette, Grace Haliena, Alexa Marlow, Zoee Stephan, Caycia Ransbottom, chapter president, Makenna Knuth, Ashley Weber; back, Katie Kistel, Lewi Janiga, Ben Davage, Griffin Watson, Terek Curtis and TAO Chapter Advisor/Faculty Cisco Ortiz.