Trine University mourns loss of alumna, dean Nicholls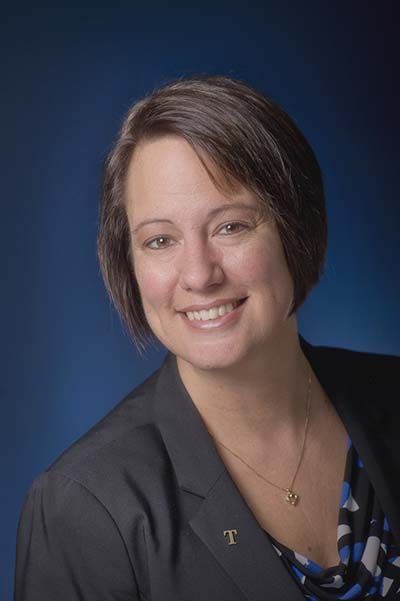 The Trine University campus community is mourning the passing of Amy Nicholls, dean of the Jannen School of Arts and Sciences, on Oct. 11.
"Amy once said that teaching was more than what she did, it was part of who she was. The tremendous impact she has had on the lives of so many Trine University students bears witness to her passion for higher education," said Earl D. Brooks II, Ph.D., Trine University president. "Her dedication to her students, even as she courageously battled cancer, was an example for all of us. We are grateful for her time here and proud of her accomplishments as a faculty member and a Trine University alumna. Our hearts and prayers go out to Scott, Mason and Jocelynn, as well as students, alumni and faculty from the Department of Humanities and Communication."
"Trine University has lost an exemplary educator and a tireless advocate for the humanities on our campus," said John Shannon, Ph.D., vice president for academic affairs. "Amy's absence will leave a void at Trine University. Her positive spirit and her passion for serving her students will be missed."
Campus counselors are available for any members of the campus community as needed.
A 1997 English education graduate of Tri-State University, now Trine, Nicholls served in several teaching roles before returning to campus in 2010. She was a Florence Crane Women's Correctional Facility adjunct for Kellogg Community College in Coldwater, Michigan; teacher at Camden-Frontier High School in Camden, Michigan, and Coldwater High School in Coldwater, Michigan; and adjunct faculty at Baker College in Jackson, Michigan.
She earned her Master of Arts in English from Western Michigan University in 2004.
She served as an instructor, assistant professor, associate professor and chair in Trine's Department of Humanities and Communication before being named dean of the Jannen School of Arts and Sciences in 2016. Her honors as a faculty member included receiving the Jannen Renaissance Scholar Teaching Award and the Robert Andrew and Anne Ewing Smith Excellence in Teaching Award in Arts and Sciences.
She is survived by her husband Scott and two children, Mason, a sophomore at Trine, and Jocelynn.
Funeral services will be held Wednesday, Oct. 17, at 11 a.m. at the Camden Missionary Church, located at 110 Mary St., Camden, Michigan. The family will receive friends for visitation Tuesday, Oct. 16, from 2-4 p.m. and 6-8 p.m. at the church.

Memorials are suggested to the Hillsdale County C.A.R.E.S. Fund, Trine University Department of Humanities and Communication, or to Kidz 2 Kidz.