CCH group participates in spring break ministry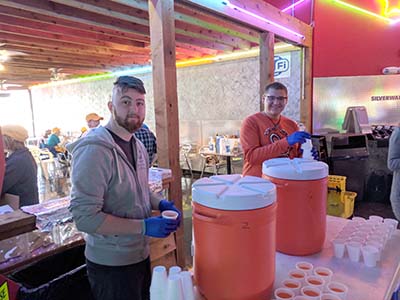 PANAMA CITY BEACH, Fla. — Well-known on campus for serving pancakes every Friday night, a group from Trine University's Christian Campus House ministered in the same way over spring break, March 3-9.
Twenty-five students and two CCH staff partnered with BeachReach, described as a mission trip experience in the form of free van rides and pancakes. The Trine group served in Panama City Beach, Florida, with groups from 11 other colleges around the United States.
"The goal of our trip was to have spiritual conversations with college-age students in Panama City Beach while providing them with free van rides at night and serving them pancakes in the morning," said Mason McFarland, a junior from Berrien Springs, Michigan, who served as one of the leaders on the trip.
Each day, the group served pancakes from 11 a.m. to 1 p.m. and took part in a worship service from 7-8:30 p.m. From 9 p.m. to 2 a.m., they would give van rides or pray in the ministry's prayer room.
"People could send in prayer requests and we would be there praying for them and for the other people in vans," McFarland said.
McFarland said one of the most memorable moments for him on the trip was giving a van ride to a group of students that included one from Germany, one from Poland and several from Brazil.
"We had a five-minute ride with them, but the conversations we had during that ride were really amazing," he said. "We talked to them about what it was like being here compared to their home countries, and specifically how religion was different between the cultures. Although it was only a five-minute conversation, it was truly amazing to see the differences."
On the last night, the group prayed with a student facing several difficult decisions.
"Our whole group rallied around him, circled up around him and prayed for him," McFarland said. "It was a really powerful moment, not only for myself but for everyone involved."