CE seniors take Pittsburgh field trip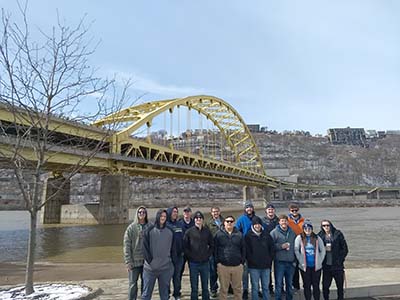 Fourteen Trine University senior civil engineering students and two faculty members travelled to Pittsburgh, Pennsylvania, April 6 and 7 for a senior field trip.
The trip, facilitated by William Barry, Ph.D., and Gary Greene Jr., Ph.D., of the Reiners Department of Civil and Environmental Engineering, included tours of the Emsworth Lock and Dam, the ALCOSAN wastewater treatment plant and seven bridges near Point State Park in downtown Pittsburgh.
At the dam, the US Army Corps of Engineers showed the group the mechanism that opens and closes the lock gates as well as the control rooms used to operate the vertical lift gates that manage the depth of the Ohio River.
"We were told that we were the first tour group allowed into the Emsworth Lock and Dam since 9/11," said Greene. "They invited us back next year."
"It was my first time visiting a lock and dam, and the tour was very informative," said Austin Gurley, from Collinsville, Oklahoma. "Additionally, I liked the lock and dam because it incorporates so many disciplines of civil engineering."
"My favorite part of this stop would have to be when we walked on top of the dam," said John LaBounty of Avon, Indiana. "Looking down at the river was breathtaking."
At the ALCOSAN facility, which treats 250 million gallons of wastewater daily, the group visited the wet well, a 50-foot diameter, 10-story deep pit that collects all the wastewater from the Pittsburgh area. They saw the plant's bar screens, grit chamber, the tank where the organic solids settle and grease floats to the top and both are removed, and the activated sludge tanks where microorganisms digest the dissolved organic material and clean the water.
"Students have visited treatment plants using similar technologies in Angola, but the ALCOSAN facility is on a considerably larger scale," said Greene.
"I was not lucky enough to go on prior field trips to the Angola treatment plant in my time at Trine, so this was my first experience witnessing a treatment plant in person," said LaBounty. "I knew a lot about what went into treatment plants from Dr. Rentz's Environmental Engineering course, but it was neat to see everything up close."
On Saturday morning, students in Greene's CE 4523 Bridge Engineering class described seven bridges along the Monongahela and Allegany Rivers to the other students. Greene said the bridges featured spans between 400 and 700 feet and were built from the 1920s to the 1980s.
"You never realize just how much time and effort goes into designing something like that until you investigate the process. I never thought much about the bridges I drove over or under," said LaBounty. "Now, I look at details I never knew about prior to the class."
Top photo: Trine University civil engineering seniors at the ALCOSAN waterwater treatment plant. Photo at right: The civil engineering students at the Fort Pitt Bridge in Pittburgh.