Davis honored at 'Realizing the Dream'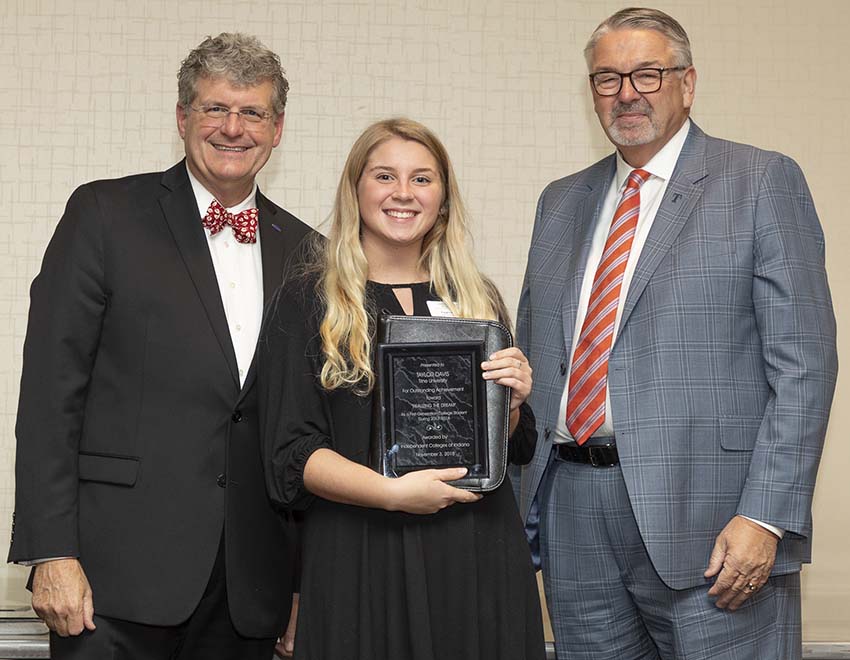 INDIANAPOLIS — A Trine University sophomore was among 30 first-generation college students recognized at the 29th annual "Realizing the Dream" banquet hosted by the Independent Colleges of Indiana (ICI) on Nov. 3.
Taylor Davis of Fort Wayne, an exercise science major, received a $2,500 check to help with college costs. Her "most influential" teacher/mentor, Pamela O'Reilly, publications/English teacher at R. Nelson Snider High School in Fort Wayne, received a $1,000 professional development grant.
Trine University alumnus and board chair Dr. Rick L. James served as keynote speaker for the event. James, who began working at Auburn Foundry after he graduated from high school, learned all aspects of foundry operation, and, in 1989 he and a partner founded Metal Technologies Inc. Today the company has sales in excess of $500 million and more than 1,100 employees.
Students were selected from each ICI member institution for outstanding achievement in their freshman year and for successfully advancing toward their bachelor's degree. Awards are made possibly by a grant from Lilly Endowment Inc. to ICI. The event was held at the Sheraton Indianapolis at Keystone Crossing.
"We are so grateful to the Lilly Endowment for making this inspirational program possible," said David W. Wantz, ICI president and CEO. "We are proud, too, that because of the higher graduation rates of our ICI colleges and universities, these students are significantly more likely to realize the dream of completing their degrees in four years."
Photo: From left, David Wantz, president and CEO of the Independent Colleges of Indiana; Taylor Davis; and Dr. Rick L. James, chairman and CEO of Metal Technologies Inc. and chair of the Trine University Board of Trustees.