Days Corporation transports Eco-marathon cars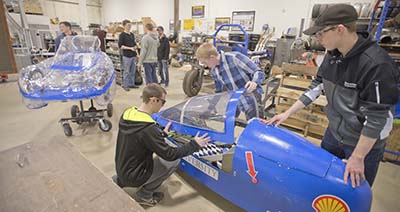 Jim Sproatt, president and CEO of Days Corporation, would like to announce the company's partnership with Trine University students, who are participating in the Shell Eco-marathon. Days Corporation is sponsoring the shipment of the vehicles built by Trine students to the competition in Sonoma, California. Days Export Packing, a division of Days Corporation, is taking the role of loading, blocking and bracing the cars for safe transport.
The Shell Eco-marathon dates back to 1939, when Shell Oil Company employees started a competition to see who could travel the farthest on the same amount of fuel. Today, the competition challenges students to design, build, test and drive ultra-energy-efficient vehicles.
This is the fifth year Trine University has sent a car to the Shell Eco-Marathon. Last year, Trine had its best finish, placing 15th in the electric prototype category.
The DENSO foundation started funding the Shell-Eco-marathon team in 2016-17. James Canino, Ph.D., associate professor in Trine's Wade Department of Mechanical & Aerospace Engineering and faculty sponsor for the Eco-marathon team, said the DENSO grant made a real difference by allowing the team to build a car that was much lighter than previous years.
This year, Shell will host three regional eco-marathon events; one in Asia, one in Europe, and one in the United States. Trine will compete in the Shell Eco-marathon Americas from April 19-22 in Sonoma,. Dr. Canino said Sonoma is a new location for the event, and Days Corporation's donation is key to allowing the team to participate.
"For the last three years we were lucky enough to have the competition in Detroit, Michigan. This meant we had almost zero travel costs as we simply put the car in our trailer and trailered it up to Detroit," he said. "The cost of sending out vehicles to Sonoma would have expended a significant amount of the budget allocated to each team. This donation from Days Corporation means the teams will be able to be more innovative in their solutions and have better vehicles because of the cost savings associated with shipping vehicles."
"This is a great way for Days Corporation to support local students in their educational process," said Sproatt, a 1972 Trine University alumnus. "Trine University was enduring to me and my education. I feel I received an education and half at Trine. Giving back to a school that gave me so much is the least I can do along with Days Corporation. With this donation, the students are able to focus their attention on being more innovative with the cars they are creating."
"We could not be more proud of the teams from Trine University, and we wish them the best in California," said Sproatt.