Sports marketing passion propels Walker to magazine cover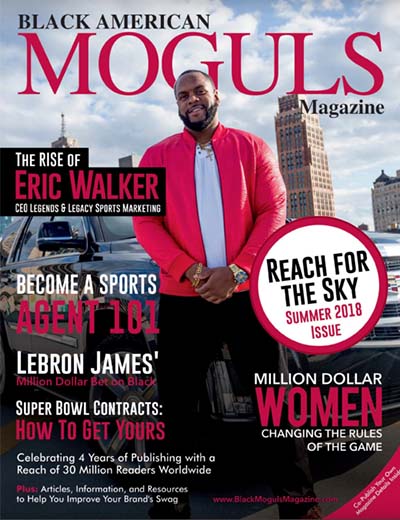 Eric Walker is following his passion, and that path has taken him to the cover of a magazine highlighting African-American entrepreneurs.
The 2011 management graduate is featured in the summer 2018 issue of Black American Moguls magazine, available on the Issuu and Magzter digital publishing platforms.
Walker is CEO of Legends and Legacy Sports Marketing in Detroit, Michigan, a business he started two years ago. Walker works with high school and college athletes to help them compete at the next level or connect with major sports or entertainment marketing firms.
"We are a niche between athletes looking to make the jump from high school to college, or from college to pro," he said. "I created the company name to reflect what I think sports should mean to those who want to make a career in it: Being legendary in whatever you're passionate about."
After graduating from Trine he served a stint in the military and worked for home security provider ADT before starting his MBA in sport management at Florida Atlantic University. During his first year in the program, he attended the national conference of the National Black MBA Association, where he was able to connect with John A. Shumate, whose career included working for the Miami Dolphins and PepsiCo, and who is now vice president of marketing and brand management at Footlocker.com/Eastbay.
"He told me to follow my passion instead of the money," Walker said.
Shumate's guidance also included encouraging Walker to pursue media coverage. Walker contacted Swan Simpson, CEO of Swan Simpson Marketing Group, which publishes Black American Mogul.
"We have been reaching out back and forth to one another to do different projects which will help me build myself as a brand along with my company name," he said.
As his brand grows, Walker hopes to make more high-profile connections with clients and sports marketing companies. He said having the opportunity to play football at Trine and the skills he learned in his management degree program helped him later define his passion for sports marketing.
"I always had an entrepreneurial mindset, and I've been able to build off that," he said.