Gala raises nearly $800,000 for scholarships
Though it was cold and wintry outside, the inside of the Keith E. Busse/Steel Dynamics Inc. Athletic and Recreation Center maintained its warmth and elegance as more than $790,000 was raised for student scholarships at the Trine University Scholarship Gala.
Hundreds gathered for the 15th annual event on Feb. 10, a day after snow and ice forced the cancellation of classes on main campus, to contribute a record amount for the Gala.
Guests were treated to an evening of soothing music performed by the Trine University Jazz Band under the direction of Brian Derek, with vocals by Elyse Buehrer BAMUS 2016. A gourmet dinner by Café Bon Appetit was capped off with a dessert featuring a chocolate crescent moon.
Those in attendance heard about the impact their contributions have on Trine University students, who receive more than $27 million each year in institutional aid.
Benjamin Moricz, a senior from Valparaiso, Indiana, majoring in mechanical engineering, shared how his grandparents had instilled in him a value for hard work and helping others, and how Trine has allowed him to "grow and become the very best version of me."
"As a first-generation college student, figuring out how to go to college was not exactly easy, nor was it guaranteed," said Moricz, whose birthday was the day of the Gala. "Thankfully, with the aid of my grandparents, as well as the generous donors of this incredible university, my dream of going to college became a reality."
Moricz thanked university donors for allowing him opportunities such as serving as soccer team captain, resident director, fraternity president and president of the Order of Omega Greek Honor Society.
"Thank you to my family, thank you Trine University, thank you each and every one of you," he said. "Because you instill in me your amazing generosity and kindness, I commit to one day support other members of my Trine University family."
Master of Ceremonies Jeff Turner, senior vice president and general counsel for Metal Technologies Inc., told the crowd students like Moricz "are why you're here this evening, and they're here because of all of you."
Live and silent auctions offered a variety of gift packages, luxury items and experiences, sports memorabilia and the opportunity to support students with Books and Beyond Scholarships. The James Foundation provided a $125,000 challenge grant to match up to 500 of those scholarships.
State Sen. Dennis Kruse, a member of the university Board of Trustees, and his son Matthew Kruse conducted the live auctions. Among the highlights was a luxury six-day, six night photo safari trip to South Africa for two that raised $5,000.
For the third year, one of those attendance sacrificed a tie for the cause. This time, Barry Trine, president of Vestil Manufacturing Corp. and son of university namesakes Drs. Ralph and Sheri Trine, was led around by Turner as other guests bid on his hat and tie. The ensemble eventually sold for $1,100.
Photos by Dean Orewiler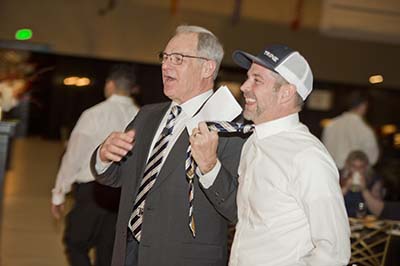 Master of Ceremonies Jeff Turner leads Barry Trine, president of Vestil Manufacturing, by the tie as Trine's tie and hat are auctioned to raise money for scholarships.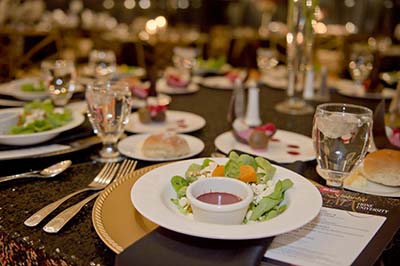 Guests at the Scholarship Gala enjoyed an elegant dinner prepared by Cafe Bon Appetit.