TV host says Trine, region doing the right things for business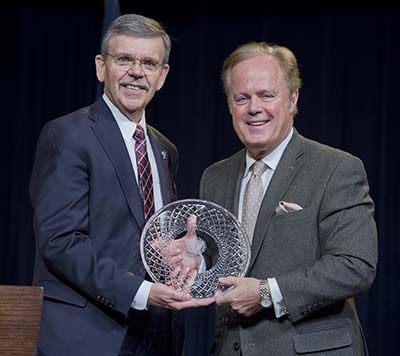 Trine University and northeast Indiana are doing what's needed to keep the state's business climate competitive, Indiana business media leader and television host Gerry Dick said during the final Distinguished Speaker Series of the 2017-18 school year.
"It's amazing to see what's happening on the Trine campus, and by extension, the impact this school is having on northeast Indiana," he said.
The Inside INdiana Business creator spoke to Trine students, faculty and staff and community members Tuesday, April 10, in Ryan Concert Hall of the T. Furth Center for Performing Arts.
Asserting that the biggest challenge facing the state from a business perspective is developing, attracting and keeping talent, Dick said that Indiana expects to have more than 1 million vacant jobs by 2020.
"Indiana is a net out-migration state," he said. "The only reason the population is growing is because the birth rate is outpacing the death rate."
However, the news is better in northeast Indiana, he said, and part of that is due to Trine University efforts to develop skills to make its graduates employable.
"Trine has taken a leadership position in so many ways in working to get that talent pipeline up, and creating partnerships to give students hands-on learning experiences with companies that you can take post-graduation and get great placement in the private sector," he said.
"The Northeast Indiana Regional Partnership is doing some amazing things. This 11-county region is taking a leadership role in workforce issues," he added.
There also are encouraging signs the state as a whole is becoming more competitive, Dick said, including recent news that Indianapolis is among 20 cities in contention for the Amazon HQ2 project, expected to be worth $5 billion with the potential to create 50,000 jobs.
"The fact that Indianapolis and Indiana are in the running for Amazon, I think, is a testament to the culture for innovation and entrepreneurship," he said.
He also said moves like adopting Daylight Savings Time, allowing Sunday alcohol sales and the upcoming addition of the first transatlantic nonstop flight from Indianapolis to Paris show change is coming to a state that seemed to resist it for a long time.
"These are things that never happened before in Indiana, but they are beginning to happen more and more around the state," he said.
"I think for the first time Indiana is beginning to engage and embrace innovation and entrepreneurship, understanding we have to create more of our own companies and really think more like entrepreneurs."
As a result, Dick said the state is seeing gains in several key sectors of the economy, including advanced manufacturing, aviation, life sciences, distribution and logistics, and food and agriculture innovation.
Additional challenges for Indiana include the opiod epidemic, which he called, "a devastating deal, not just for Indiana, but most states in our country," and the skills gap due to too few Hoosiers having college degrees.
However, he said talent retention remains by far the largest hurdle to overcome.
"What we are seeing all over the state are communities doing things, economic development and projects, that really focus on talent," he said. "It's not just to create new apartments, new condos and new retail. It's to create a live/work/play environment that's going to be attractive to keep people in that community, and also attract people from other places."
Designed to give educational enrichment that complements other learning experiences, Trine University's Distinguished Speaker Series brings experts in various fields to campus throughout the school year.
Photos: Top, Gerry Dick speaks Tuesday, April 10, during Trine University's Distinguished Speaker Series. Right, Earl D. Brooks II, Ph.D., Trine University president, presents a commemorative plate to Gerry Dick in appreciation for his participation in the series.