Temporary assignment lets sailor/student attend Trine's 9/11 remembrance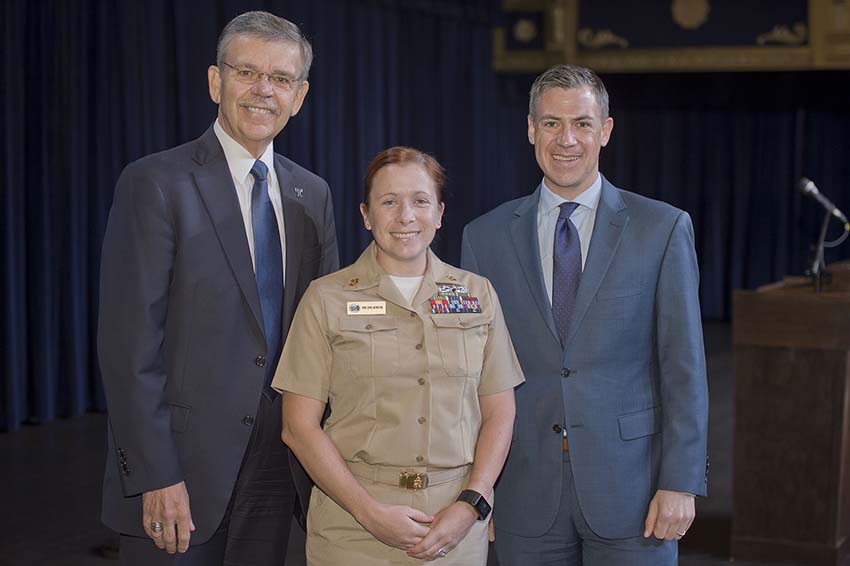 When U.S. Congressman Jim Banks spoke for the 9/11 remembrance during Trine University's Distinguished Speaker Series on Sept. 11, the former Naval Reservist had a fellow sailor in attendance to hear what he had to say.
Chief Petty Officer Lois Schenk learned the Congressman was going to speak through an announcement sent to her Trine email account. A part-time student in the College of Graduate and Professional Studies, Schenk is on temporary assigned duty at the Navy's Fort Wayne recruiting office, allowing her to be on Trine's main campus for Banks' presentation.
She was able to meet Banks before the event.
"I saw that he had prior Navy history, so I definitely wanted to hear what he had to say about 9/11," she said. "I had never got to meet the Congressman. That was exciting."
The 9/11 remembrance had special meaning for Schenk, who was in Navy boot camp at Great Lakes Naval Station in Illinois during the Sept. 11, 2001, terrorist attacks.
"That morning we were already up, going to breakfast, and we came back and we were just doing our basic training," she recalled. "They had us all sit in the middle, and they rolled in a TV, and before they turned it on they asked if anybody lived in New York City. One of the future sailors raised his hand and they escorted him out, and they turned on the TV to the news."
By that time the second plane already had crashed into the South Tower of the World Trade Center. Schenk said the recruits watched in silence.
"There were a lot of rumors that day that there were airplanes directed at boot camps of all the military branches," she said. "Then they brought in counselors to talk with us about what was going on, what to expect for the next week, and what the security level would be."
In the weeks following 9/11, Schenk said the attacks gave the recruits a greater sense of purpose as they prepared for deployment.
"We held our heads up higher because we knew we had to go out there and fight for our country," she said. "We wanted to make it through boot camp and get out to the fleet and serve."
She eventually was stationed on the aircraft carrier USS Nimitz in San Diego, California, from 2001 to 2005. From 2005 to 2008 she served on the destroyer USS Curtis Wilber in Yokosuka, Japan, and from 2008 to 2010 she was assigned to the USS Iwo Jima.
She served the next four years as a tour guide at Virginia's Naval Station Norfolk, then served at Assault Craft Unit 4, as a loadmaster working on landing craft air cushions. Before her current temporary post in Fort Wayne, she was assigned to the Mid-Atlantic Regional Maintenance Center in Norfolk, which repairs Navy ships.
"We get them up and working again so they can go out to the fleet and do their mission," she said.
The Angola, Indiana, native is hoping to return to the state as a recruiter.
"When I was recruited, I was so happy my Navy recruiter was there for me," she said.
She started her business administration degree at Trine in the spring, after learning the university offers online-only programs. Besides the convenience of the program, Trine University provides a scholarship for members of the military on active duty that covers the portion of her tuition not already covered by the Navy.
She plans to complete her degree before retiring from the Navy in 2021. She hopes having a degree, as well as being able to take advantage of Trine's job placement services, will help her transition more easily into civilian life.
"I feel I will be better established going through Trine, and I won't have an 'Oh no, what's going to happen?' scenario," she said.
In the meantime, she is enjoying being home in Indiana.
"Everywhere I go, people are coming up to me and saying, 'Thank you for your service, thank you for your time, thank you for contributing your life,' " she said.
Photo: From left, Trine University President Earl D. Brooks II, Chief Petty Officer Lois Schenk and U.S. Congressman Jim Banks, prior to the Sept. 11 Distinguished Speaker Series event at the university. (Photo by Dean Orewiler)