Five Trine students place high on Major Field Test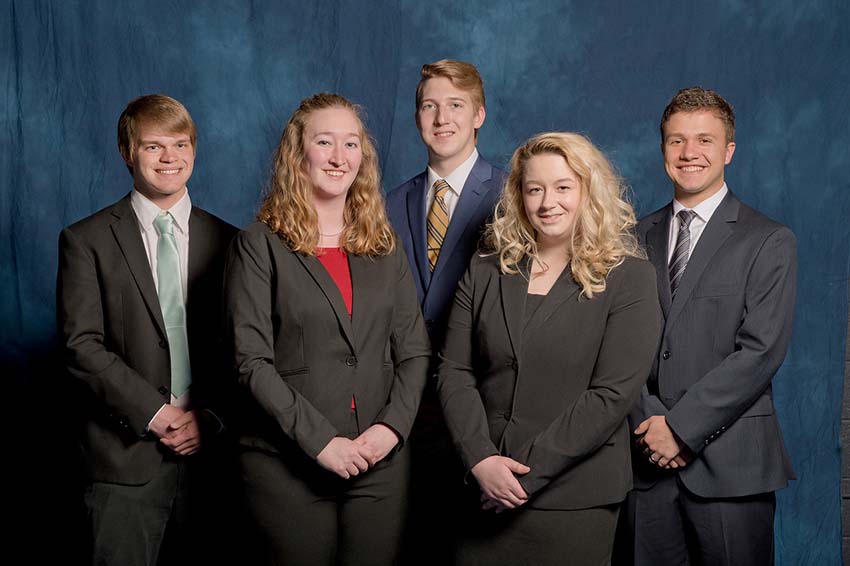 Five Trine University senior business students scored in the 90th percentile or higher out of nearly 32,000 students nationwide on a national assessment test, the highest number of Trine students to perform at that level over a school year.
Colin Galloway, an accounting major from Reading, Michigan, scored in the 98th percentile on the Major Field Test for the Bachelor's Degree in Business. Kayla Spande, an accounting major from Mapleton, Minnesota, scored in the 97th percentile; Brian LeGalley, an accounting major from Bowling Green, Ohio, scored in the 96th percentile; Stephanie Hostutler-Eiden, an accounting major from Angola, Indiana, scored in the 95th percentile; and Corben Havener, a sport management major from Zanesville, Indiana, scored in the 92nd percentile.
The tests were administered beginning Sept. 16 and continue through June 18.
According to the Educational Testing Service, Major Field Tests are designed to measure the knowledge and understanding obtained by students in a major field of study. The tests assess mastery of concepts, principles and knowledge expected of students who have completed or are nearing completion of a specific program of study. They evaluate students' abilities to analyze and solve problems, understand relationships and interpret written and visual material.
Each test is developed by a national panel of subject matter experts.
Photo: From left, Corben Havener, Kayla Spande, Brian LeGalley, Stephanie Hostutler-Eiden and Colin Galloway.