MTI Center open to the public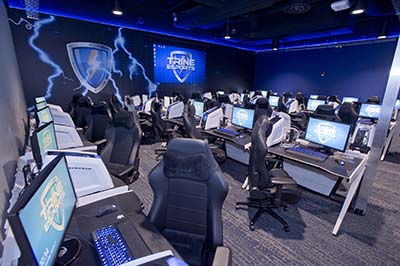 Trine University's MTI Center opened to the public with a women's basketball game on Wednesday, Jan. 3.
"It's a fabulous facility," said Trine University President Earl D. Brooks II, Ph.D. "I can't wait for everyone to have an opportunity to get in to see it and participate in it in the many ways possible."
Announced in April 2016, the 74,840-square-foot, 3,500-seat facility is the new home for Trine University men's and women's basketball, as well as the university's new esports and bowling teams. The $13.7 million building also will include a new clubhouse, banquet facilities and pro shop for Zollner Golf Course.
In addition to hosting sporting and entertainment events, the center includes several amenities that will be available to the public.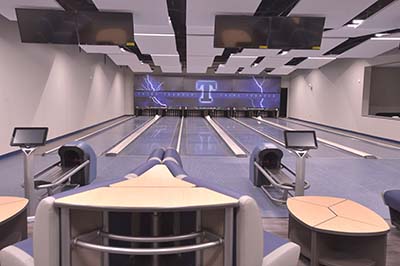 The opening date for the bowling alley will be announced at a later time. The alley will feature a QubicaAMF automatic scoring system and only the second set of blue pinstripe lanes in the country.
The 1,000-square-foot fitness center includes treadmills, ellipticals and other cardio equipment.
The Zollner Golf Course, which hosts some 13,000 rounds of golf for the public each year, will have a new pro shop, club repair area, banquet room, kitchen and bar inside the MTI Center. A new patio area will provide outdoor seating, and the putting green and driving range have been upgraded during the MTI Center construction process.
The golf course will open in the spring when weather permits.
A Regional Cities Initiative grant through the Northeast Indiana Regional Development Authority helped provide financing for the MTI Center, and the project also received support from the City of Angola and significant gifts from Drs. Rick L. and Vicki L. James, Keith M. and Cindy L. Turner, Larry and Judy Reiners, Parkview Sports Medicine, Cliff and Sig Ryan, the Dekko Foundation and other alumni and friends.