Taking Fremont by Storm: Innovative education program wraps up pilot year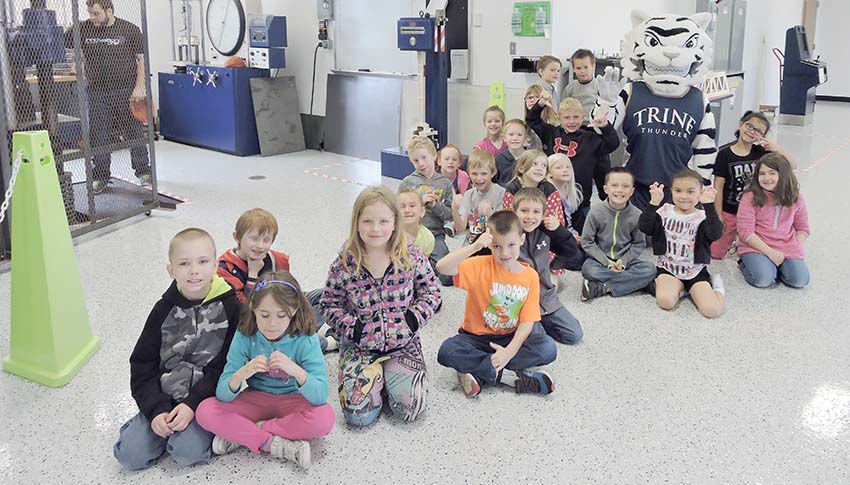 Trine University's mascot has done a lot besides fire up the crowd at athletic events this year.
With assistance from Jason Blume, executive director of Innovation One, and Lindsay Omlor, Trine's director of charter schools, Storm the white tiger has helped students at Fremont Elementary School learn basic principles of engineering.
A May 15 visit by the students to Trine's campus was the capstone for the pilot year of STEM with Storm, a collaboration between Trine University's Innovation One and Education One that brought monthly interactive programs covering aspects of science, technology, engineering and mathematics to the school.
"It was fantastic," Dr. William Stitt, Fremont Community Schools superintendent, said of the program. "I've heard nothing but positive comments from parents, students and teachers. We are already looking forward to what we can do next year with Trine."
"It was amazing how much the students would absorb and be able to recall each month as conversations would scaffold each month," said Eric Bryan, Fremont Elementary School principal. "I give HUGE credit to Lindsay and Jason, along with their colleagues on providing a fun, interactive and exciting way to learn in a large group setting."
Over the course of the school year, the Fremont students helped engineer a back scratcher for Storm and used a chemical reaction to produce enough toothpaste for his large, ever-present teeth. The students also powered Christmas tree lights using bicycle pedal energy, learned how truss forces work in bridges and used engineering processes to move tennis balls more efficiently.
"Any time we can get that type of hands-on education to our kids, it's wonderful," said Stitt.
While at Trine, the kids got to see demonstrations of equipment used by engineering students at Trine, including 3-D printers and a compression tester that burst a basketball with 6,000 pounds of force.
"The students learned how we can now make engineers' ideas a reality in minutes using CAD, prototypes and scale models rather than weeks or months," Blume said.
Blume hopes to broaden the program into more academic areas next year, noting "STEM is more than engineering."
"Innovation One's goal is to impact the region, and this gave us an opportunity to make an impact at a fundamental level, by investing in the future of our youth," he said.
Stitt said his hope is that the program might eventually be offered more frequently, or to small class sizes.
"There is great enthusiasm, and we want more," he said. "We want to get our students more interested in science and education."
"We love our partnership with Trine University," Stitt said. "As a smaller school corporation we can't offer our kids a lot of these opportunities on our own, and this partnership has opened up the door to a lot of opportunities that a lot of the kids in the county don't get to have."
Photos: Fremont Elementary School students visited the Trine University campus on Tuesday, May 15, as the capstone for the yearlong STEM with Storm program. In the photo at right, Timerson Downing, project manager for Innovation One at Trine University, explains forces to the students by bursting a basketball using a compression tester in the Plastics Lab at the Jim and Joan Bock Center for Innovation and Biomedical Engineering. (Photos by Denise Draper)